MAIN CONTENTS

Featured Articles
The latest Halloween articles from the staff of Halloween Online.
Halloween Costumes
Halloween Costumes, Halloween Masks and Makeup ideas.
Halloween Decorations
Halloween decorations you can make or buy for the spookiest night.
Halloween Recipes
Our cookbook filled with Halloween recipes, tasty tricks and treats.
Halloween Games
Spooky Halloween games adaptable for both kid's and adults.
Halloween Party
Halloween Party planning and ideas for your festivities.
Halloween Safety
Safety information, tips and suggestions for a safe Halloween.
101 Halloween Tips
That's right, 101 great Halloween tips, ideas and suggestions!
Halloween Props
Spooky Special Effects and Props for your Halloween haunt.
Pumpkin Carving
Pumpkin carving tips for carving your Halloween Jack O' Lanterns.
Movies & Music
Suggestions for the best Halloween music and Halloween movies.
Halloween Crafts
Halloween craft ideas and instructions for lots of Halloween fun.
High-Tech Halloween
Ghostly gadgets for your computer, cell-phone, Palm Pilot and more!
| | | |
| --- | --- | --- |
| --- | HALLOWEEN PROPS & SPECIAL FX | --- |
VEI FOG MACHINES
What would any Yard Haunt, Graveyard Display or Halloween Party be without a thick layer of fog floating ominously through the night air?
But which fog machine to buy?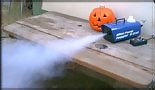 One of our goals while attending the Halloween and Costume Convention in Chicago this year was to locate a Consumer Level fog machine that we could recommend to our readers. It had to be well built, meet the demands of the general Halloween consumer, but be relatively inexpensive. The machine would have to be capable of producing generous amounts of fog yet be easy to operate and have accessories available such as a timer-remote.
What we mean by "Consumer Level"
In general, most people don't need a fog machine that costs hundreds or even thousands of dollars. While professional class fog generators are great, they are also very expensive. For the general Halloween consumer their fog machine(s) will only be used one or two nights a year, for five to ten hours. This means that its running time will be no where near that of a professional machine that might be used hundreds of hours per year. This doesn't mean we were looking for cheap fog machines, but inexpensive ones, that would operate year after year within these parameters.
Choosing a Fog Machine
Selecting between almost a dozen brands of fog generators, we finally decided that VEI puts out the best line of fog machines for the consumer dollar. There are four sizes to choose from so you can pick the one that is right for your haunt.
Founded in 1967, Visual Effects Inc. is the result of a creative collaboration of artists, designers, and manufacturers whose aim was to provide the widest range in innovative special effects lighting and special effects fog machines.

Their product line includes a wide range of fog machines for many applications, black lights, strobe lights, faux flame units, bubble machines, and more! With over 30 years of experience, top-of the-line products and excellent customer support Visual Effects Inc. has proven that they're a name you can rely on.
Fog Machine Showdown
We've spent the last few years analyzing the input we received from fog machine users and expanding our "Consumer Fog Machine Testing", competing several different fog machines against each other in what we call "The Fog Machine Showdown". Our pick for this year's top consumer-level fog machine is the Visual Effects Mini-Fogger (V-919). Unlike the other fog machine manufacturers who only make one or possibly two different types of machines, Visual Effects makes a full line of fog machines from 700 to 1300 watts in power. Below are our picks for the best of the best in fog machines for Halloween! You can read the specs for them at our Got Fog? site in the Buying Guide section.
Mini-Fogger V-919
The is their smallest model. It is a standard duty fog machine best suited for small yard haunts or using in conjunction with a fog chiller or special effects such as those in our Special Projects section and Halloween parties.

Party Fogger V-920
This is the most widely available machine used during the Halloween season. It puts out a good amount of fog for a small yard haunt and is a great first fog machine if you have decided to add one to your haunt.

DJ Fogger V-930T
This semi-pro machine is great when you want to fill your yard haunt with generous amounts of fog, for use with large fog chillers, fog distribution systems, and is great for large outdoor Halloween parties.

Pro Fogger V-940T
The Pro Fogger will just about fill your entire neighborhood with a layer of fog! This is a great unit for large yard haunts or small ones that want pea soup thick fog, big Halloween parties and haunted attractions.
Fog Machine Testing
Initially, we ran the same test we had performed in past years, operating the VEI Mini-Fogger (v919) on three consecutive nights for six hours each night, for a total run time of 18 hours, simulating what would be three years of Halloween use by the average user. The machine operated flawlessly.
Without a doubt, the Visual Effects Inc. fog machine is the leader of the pack. It produces more visible fog than the others, has a quicker re-heat cycle and has a removable fog fluid tank. All these things put it on the top of the list for our choice in fog machines.
"Your Trick or Treaters will be thrilled and impressed with this eerie touch"
For more information visit the Official Fog Machine website Got Fog?