MAIN CONTENTS

Featured Articles
The latest Halloween articles from the staff of Halloween Online.
Halloween Costumes
Halloween Costumes, Halloween Masks and Makeup ideas.
Halloween Decorations
Halloween decorations you can make or buy for the spookiest night.
Halloween Recipes
Our cookbook filled with Halloween recipes, tasty tricks and treats.
Halloween Games
Spooky Halloween games adaptable for both kid's and adults.
Halloween Party
Halloween Party planning and ideas for your festivities.
Halloween Safety
Safety information, tips and suggestions for a safe Halloween.
101 Halloween Tips
That's right, 101 great Halloween tips, ideas and suggestions!
Halloween Props
Spooky Special Effects and Props for your Halloween haunt.
Pumpkin Carving
Pumpkin carving tips for carving your Halloween Jack O' Lanterns.
Movies & Music
Suggestions for the best Halloween music and Halloween movies.
Halloween Crafts
Halloween craft ideas and instructions for lots of Halloween fun.
High-Tech Halloween
Ghostly gadgets for your computer, cell-phone, Palm Pilot and more!

Strobe lights are often seen in commercial haunts but you can use the for the same effect in rooms, hallways or even outdoors to frighten and disorientate your trick or treaters. If done correctly, strobe lights can add a great effect to your Halloween haunt, display or party, but if done poorly it will annoy your visitors and take away from the overall atmosphere.
Strobe Light units come in a variety of shapes, sizes and power ratings. Prices range from about twenty dollars to hundreds of dollars or more. Choosing one that fits your particular need depends on what effect you will be using it to create. Those manufactured by Visual Effects Inc. are high quality and reasonably priced.
There are many things you can use strobe light for, such as enhancing the effect of Sci-fi or alien type displays. Place a small strobe light inside of a large foam pumpkin. Don't use a real pumpkin because of their moisture content. If you have tall trees near your house you can place a strobe light on the roof pointed up towards the trees. This looks very strange, it makes the trees appear to be moving.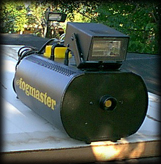 Strobe lights can be aimed into the fog generated from a fog machine to make a creepy and disorientating effect. For best effect you should aim the light either up or down through the fog, not directly in the direction your visitors will be coming from. Or, place a strobe light at the end of a hallway that trick or treats have to walk down.
As with any electrical device, care must be taken to protect against electrocution. Make sure that the cord is hidden from view and not where it can be tripped over or snagged on.
Safety - Make sure as you use your strobe from year to year to check the electrical cord for frays or open places on the wire that could cause a short or electrocution. Discard and buy a new store light unit if this occurs. Strobe lights can cause seizures in persons with epilepsy so please post a warning sign if you are using them in your haunt.

Recently, we've seen a lot of LED based strobe lights appear on the market. Before buying one, you need to know that these do not have anywhere near the power of a regular xenon strobe and even with multiple LED's, produce much less light. In our opinion, there only use is where you need a very small amount of strobing light for a specific effect, such as inside a fireplace or plastic cauldron.