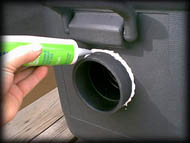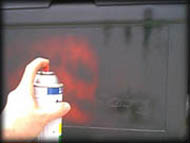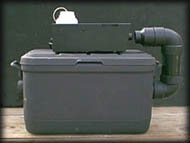 To prevent fog from leaking out, seal the two 4 inch double-female connectors into the chest with some clear silicone caulk, inside and outside of the cooler. To help camouflage the unit at night, paint the exterior of the chest with flat black spray paint. Allow the paint and caulk to dry for 24 hours.
Since we cut the mid-section of 3 inch ABS pipe that runs between the two elbow joints extra long, you need to set your fog machine on top of the Fog Chiller and cut off any excess until the fog machines exit nozzle is aligned with the Fog Chillers intake nozzle.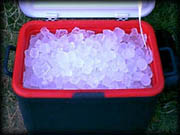 Your Fog Chilling unit is now complete and ready to go. When you're ready to use it all you have to do is fill it up to the top with ordinary ice cubes (ours took 35 pounds) and close the lid tightly. Standard sized ice cubes work great.
You should try to avoid very small ice cubes as they might slip through the screen wire into the cooling chamber and impede the flow of the fog. Using dry ice will improve performance, but dry ice costs a lot more.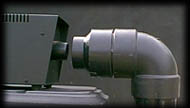 During use, align the fog machines exit nozzle to be centered with and about an inch away from the Fog Chiller intake nozzle. This allows outside cool air to be drawn in during operation. The trick to getting the best low lying fog is to use short bursts from your fog machine, separated by a few seconds to allow cold air to refill the cooling chamber.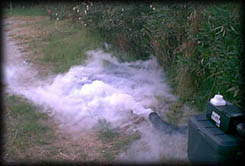 You can also attach a section of five inch diameter flexible tubing to the exit pipe on the Fog Chiller to direct the fog where you want it. In general, you don't want to attach more than six or eight feet of tubing, as the fog won't have enough power to travel through its entire length.
Special thanks to all the pioneers of fog cooling, particularly Death Lord and Scott N.