Trying to create the atmosphere of a stone dungeon or castle for your haunted garage, yard haunt or as a display for a Halloween party has always been a challenge, primarily in the construction of walls, so that appear to be made of stone.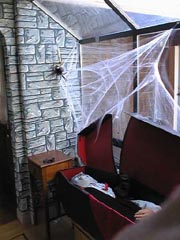 In the past, some have used sheets of plywood, painted with light gray paint, then either by hand or using a spray gun, painstakingly painted in stone detailing with darker paint to give the impression of individual stones and mortar.
Others have used a similar procedure on foam-board. First, carving some of the foam out in the shape of stones to add some three dimensional depth, painting it with a light colored gray paint, then highlighting the carved areas with a slightly darker paint.
Both of these methods have had results ranging from fair to realistic. But the main drawback has always been that it is an arduous, time consuming task and tends to be expensive, particularly when large area's are to be covered.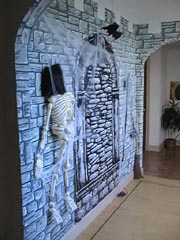 We have finally found an affordable way to create castle or dungeon like walls for your Halloween haunt.
Graystone Decor-Wrap, available from the Fright Catalog, is a wallpaper-like product that has been bonded to corrugated cardboard for added strength. This material is very easy to work with. You just staple, tack or tape the Decor-Wrap to any wall to create an instant and creepy effect of stone-like dungeon walls. You can keep it simple or get really elaborate cutting out archways, windows, doors or just about anything your imagination can come up with.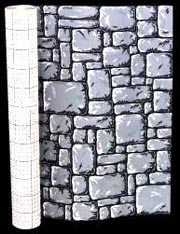 You could also build a castle and walls for your yard haunt and cover the entire thing or build a maze using the wrap to add that special touch to impress your guests.
The nice thing about these rolls is that unlike regular wallpaper rolls, which are small in length and width, each of these rolls measures 48" x 25'. They also come packed in a convenient single shipping carton that can be used to store the wrap for use again each year.
Retailing for only $24.99, this wall-covering is a great value and a time saver for those who want the look of stone walls for their Halloween haunt.