DRY ICE SAFETY

Never handle dry ice with your bare hands, it can cause severe freeze burns! Always use gloves or tongs. If using large amounts of dry ice indoors or in a closed area allow for plenty of ventilation. As it sublimates the dry ice releases it's carbon dioxide which living creatures, like us, shouldn't breath. Do not store Dry Ice in an air-tight container without proper ventilation, the carbon dioxide gas will cause any airtight container to explode.
Fog Making with Dry Ice

To make fog from dry-ice you simply add pieces of dry-ice to very hot water. One gallon of hot water for every 1 - 2 pounds of dry ice is one formula. The variables of fog generation are the water temperature, amount of the dry ice and the size of the dry ice being used.
The smaller the size of dry ice pieces the more fog, the higher temperature of the water the more fog. When the water temperature gets below 40░ F, fog production will stop and you will need to change the water. But be warned, it takes a lot of dry ice to produce the same quantities of fog as a small fog machine.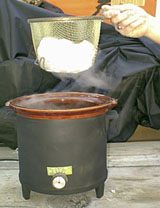 One way to make a very simple dry-ice fog generator is to use a Crock Pot as the heating tank. This works great for placement behind a tree, headstone, crypt, etc. Unless you have a Crock Pot that just happens to be black or other dark color that will make it easily cancelable, you'll need to paint it black.
Start by cleaning the surface of the Crock Pot so that the paint will stick. Remove the ceramic cooking pot and selector switch. Mask off the heat control indicator with masking tape. Now spray the Crock Pot. Once the paint has dried thoroughly, put the cooking liner back in. Do not try to use this without the liner in.
Doing so could cause electric shock and/or a fire hazard. We use a metal deep-fry basket to hold the dry-ice. While this method does work and will extend the time the water stays hot, the heating element in most Crock Pots are not designed to get that hot, so you will still have to replenish your hot water, although not as often.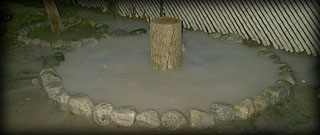 ---
Misting Pumpkin


This is a very cool looking effect!! After carving your pumpkin or using a foam one, use a light stick or battery powered light inside for internal illumination (never use an AC powered light). Place a clear plastic container with hot water inside and add dry-ice. You cannot use a real candle as the carbon dioxide will extinguish it.
---
Making Dry Ice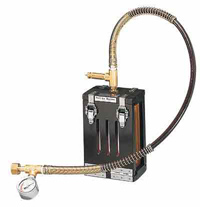 Some towns, particularly small ones often don't have dry ice available at the local ice company or the cost is sometimes high. But there is a solution!
The Cole Parmer Dry Ice Machine allows you to make a one pound block of dry ice in just sixty seconds and will produce between nine and eleven blocks from a single fifty pound tank of liquid CO2.
The machine is simple to useŚconnect a CO2 cylinder to the dry ice machine and open the regulator valve. As each ice block is made, just release latches and lift out block. Dry ice blocks are ready for use just as they come out of the machine. You will need a local source for liquid CO2.