THE ULTIMATE HALLOWEEN COFFIN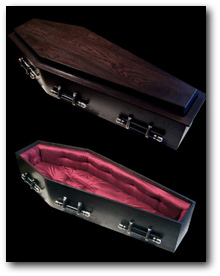 The "Black Gothic Toe Pincher" Coffin also called the Vampire Coffin made by Vintage Coffins, is without a doubt the most beautiful and well made coffin we have ever seen!
Vintage Coffins specializes in building a variety of classic coffins using old world craftsmanship, including the ever popular toe pincher style. This coffin is the ultimate show piece for Halloween, your Halloween party or just to accent your home every day of the year, like we do.
The standard size is seventy-eight inches in length, but one can be built to your particular body specifications. Using a process called ebonizing, the coffin is darkened, but still allows the grain of the wood to show through. The lid can be either a lift off or hinged.
While the padded burgundy red lining is the most popular, you can choose any color of lining you like. This high quality coffin comes with contemporary swing bar handles in a black and nickel finish, or you can choose from six different one-piece metal handle designs in copper, antique gold, or silver.
If you want the very best classic coffin available, this is the one! It is important to remember that Vintage Coffins does not mass produce their coffins. Every coffin is hand made to order and there is a waiting list, so you will want to order well in advance of Halloween. Due to there size and weight, these coffins can only be shipped via freight.
Available exclusively from Vintage Coffins