Setting the mood for a Halloween decoration, prop or display often means making it look old and dusty. To do this, we use the same techniques that have been used in the entertainment industry for decades, by very lightly dusting the given area, furniture or props with Fuller's earth.
Fuller's Earth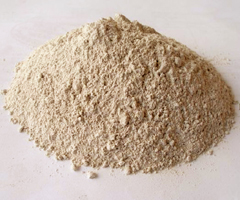 Fuller's earth is a highly adsorbent claylike substance usually consisting of hydrated aluminum silicates and is commonly used in the theatrical industry to dress sets and props because it is very fine and looks a lot like common dust.
This makes it the ideal choice for creating a dusty or dust covered effect for Halloween decorations, graveyard, spooky scenes and creepy props. Fuller's earth is a very common material and can usually be found at your local hardware store or pool supply.
Dust Mizer Dust Spreader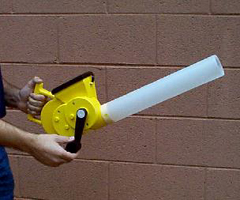 The Dustin Mizer is a special applicator designed for uniformly applying dust to an area or Halloween prop. This lightweight device works by cranking and will propel dust twenty feet or more.
The easy-to-turn handle sifts any powder into a column of moving air, which assures even, thorough coverage. It can be loaded with fullers earth for adding a layer of dust to just about anything, including fake cobwebs. It retails for around $45 and is available at bugspray.com
Canned Air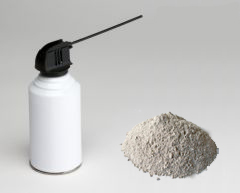 Typically used for dusting off sensitive electronics, this can be used to spread dust over an area as a Halloween effect.
While no where as good as a duster such as the Dustin Mizer above, you can do an okay job by placing a very small amount of Fuller's earth in the palm of your hand and then using canned air to spray the dust.
Caution - In spite of its name, most "canned air" products actually don't contain air and direct inhalation can be very dangerous. Follow all instructions and warning on the can.