| | | |
| --- | --- | --- |
| --- | NECROMANCER'S CIRCLE OF BONES | --- |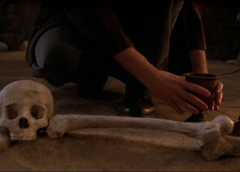 Here's a really sinister looking Halloween decoration that was inspired by the "Necromancing the Stone" episode from the tv show "Charmed". In this episode, an evil Necromancer is resurrected by his assistant within a pentagram shaped magic circle made up from old human skulls and bones.
This sinister display is a really great Halloween decoration, particularly if you place a costumed person or prop figure standing ominously in the center of the circle and its a very impressive visage. You can dress-up in a variety of costumes such as a grim reaper, demon, sorceress, wizard, or even a ghostly apparition and you'll put a real scare into your Halloween visitors. If you have the floor space, you can put your Halloween tree inside of it.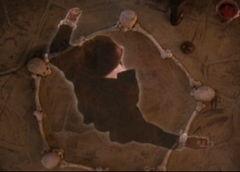 The items needed to create this chilling Halloween display are five "Budget Life-Size 2-Piece Skulls (1st Quality)" and ten "Femur's", both of which can be bought online at The Skeleton Store. These are what you need to make a circle large enough for a person or a full size Halloween prop figure to stand in and measures about five feet across.
If you want and even larger Circle of Bones, use three femur's instead of two in between each skull. This will make a circle that measures more than seven across.
We positioned the skulls to face inside the circle, except for the one in front, so that our visitors could see the skulls clearly. If you want the skulls to look like they did in the episode of "Charmed", you will need to remove the lower jaw of each skull by removing the small screws and springs that hold the lower jaw to the skull.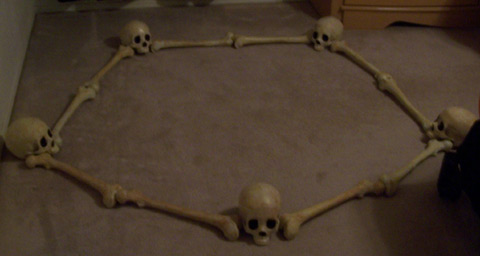 Its important to remember that these skulls and bones are white in color because they are made for the medical industry and are not meant to look old and creepy. To give them that "fresh from the grave" look, they should be "distressed" using our instructions in our "Distressing a Skeleton" article.
Positioning the skulls and femurs into the shape of a pentagram is pretty simple, just place a skull on the floor or ground, then place either two or three femurs, depending on the size circle you are making, on either side of it in a straight line, and so on until a pentagon shaped circle.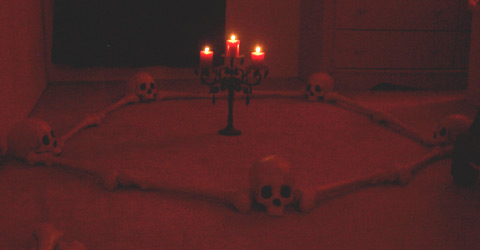 Glowing Eye Sockets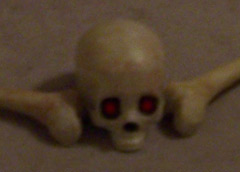 For an extra spooky touch you can make the eye sockets of the skulls glow in the dark by painting them with fluorescent paint. This will make them glow eerily under black light enhancing there overall effect.
Either red or green colored fluorescent paint works well for this and look very creepy. Be sure to position the black light unit so that its UV light is directed at the circle, but cannot be seen by onlookers.