MAIN CONTENTS

Featured Articles
The latest Halloween articles from the staff of Halloween Online.
Halloween Costumes
Halloween Costumes, Halloween Masks and Makeup ideas.
Halloween Decorations
Halloween decorations you can make or buy for the spookiest night.
Halloween Recipes
Our cookbook filled with Halloween recipes, tasty tricks and treats.
Halloween Games
Spooky Halloween games adaptable for both kid's and adults.
Halloween Party
Halloween Party planning and ideas for your festivities.
Halloween Safety
Safety information, tips and suggestions for a safe Halloween.
101 Halloween Tips
That's right, 101 great Halloween tips, ideas and suggestions!
Halloween Props
Spooky Special Effects and Props for your Halloween haunt.
Pumpkin Carving
Pumpkin carving tips for carving your Halloween Jack O' Lanterns.
Movies & Music
Suggestions for the best Halloween music and Halloween movies.
Halloween Crafts
Halloween craft ideas and instructions for lots of Halloween fun.
High-Tech Halloween
Ghostly gadgets for your computer, cell-phone, Palm Pilot and more!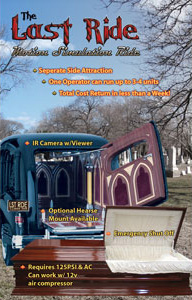 Imagine what it must be like, that last "bed" that you'll "sleep" in. Yes, I'm talking about the casket that you might be spending eternity in, if you lean that way. Now, imagine what it would be like to be in there and still alive!
That's where Haunted Creation's "The Last Ride" comes in! This is a one-of-a-kind ride that they have designed and implemented. It's been seen on many TV shows, highlighted in magazine articles and displayed at Halloween and Haunt conventions from coast to coast. Yes, they are for sale and if you can afford one for personal use you can buy one but they mostly sell to haunted attractions.
"The Last Ride" is the brainchild of owner Randy Griegg and the Haunted Creations team. Haunted Creations makes high quality props, such as tombstones, latex props, animated props and more, for the Halloween haunt industry and for the Halloween pro-sumer. Using an overstock of caskets they had purchased, they devised a way to give you the ride of your life!
You can find their products at halloweenconnection.com
First, you climb inside the casket and the cover is closed over you! But have no fear! There's a mini cam inside so everyone outside can see what you are doing in there! The casket is on hydraulics and thanks to the sound system inside, you feel as though you are picked up, put inside a hearse and taken for your last ride then dumped off at the cemetery and buried! New models include different scents being pumped into the casket, like the smell of dirt as it's shoveled over you. It gives you a completely realistic experience!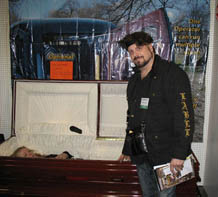 It was a big hit at the TransWorld Halloween and Costume convention in Las Vegas this year! See The Amazing Jonathan when he stopped by for a ride! In fact, it has been a big hit at all of the Haunted Attraction conventions around the country! You may find one at some of the bigger commercial haunted scattered over the country this Halloween.
While everyone should own one of these, it's not something that a home haunter could purchase. Starting at a base price of $2,999.00, it's not for everyone! There are add-on's for it as well, such as the Scent Pack Dispenser, Scent Packs, Optional Stand and Optional Inside Camera. If you ever get the chance to ride in one, please do it! You'll have the ride of your life! Or death, as the case may be!