"In less than half a minute, the Halloween decorations that took hours to build were destroyed." as reported by Fox9 (pictured above). But after multiple assaults on his decorations in years past, the home owner got his revenge after he installed a video security system and was able to video tape the vandals in action.
Its very sad, but there are some people out there that will steal and/or vandalize Halloween decorations, props, displays and even defenseless Jack O' Lanterns. We display several thousand dollars worth of Halloween decoration and props in our front yard alone, many of which were very expensive and some are no longer made, making them irreplaceable. While this has not happened to us, we have friends that it has happened to and they were completely devastated by it.
Unfortunately, there is no absolute and foolproof way to protect your Halloween decor, but there are many things that you can do to help deter, detect and even identify those that would do them harm. Many of these types of crimes happen later in the night after the trick or treating has stopped for the evening and the owners have gone indoors for the night. Its not always practical to bring in all your Halloween decor on Halloween night, so what can you do to deter would-be thieves or vandals. Below are a few ideas that could help.
Control Access
Enclosing your yard with either a permanent or temporary fence with a locking gate and posted with "No Trespassing" and "Beware of Dog" signs is the first line of defense in protecting your property and valuable Halloween displays after your festivities. A fence is literally a line drawn in the sand for bad guys and indicates that past the fence is trespassing. If you can't afford or don't want a permanent fence you can build or even rent temporary fencing. Be sure to check your local zoning laws, ordinances and home owners association if applicable before erecting any fence on your property, even a temporary one.

Motion Detector Floodlights
Consider installing motion detecting floodlights in your front yard pointed at vulnerable areas. The moment they detect movement, they will illuminate the area and expose the source of the movement. We like these better that just leaving regular lights on during the night, as they tend to startle intruders, who do not know if the home owner switched on the lights and may be on his way out or is calling the police. If you have security camera's, floodlights will help provide a brighter picture. We prefer the models with bulb enclosures as they add extra protection from weather for the bulbs. These cost as little as thirty-five dollars per unit.
Security Camera's
The great advantage with recorded video is that it can help local law enforcement in the possible apprehension and prosecution of thieves and vandals. If multiple cameras are installed, two can be angled in such a way that they can capture vehicles on the street and even there license plate numbers, criminals in cars can be recorded as well. At least you will have a record to show police and your insurance provider. These systems can be pricey, costing in the hundreds of dollars to thousands, but remember they can be part of your home security not just on Halloween, but year round. You can buy a complete outdoor rated system with four wireless motion detecting night vision camera's and an SD DVR for recording and mini monitor for under five hundred dollars.
Motion Detection Yard Alarms
We use three of the "HomeSafe Door and Driveway Alarms" pointed in a "V" formation to cover our entire Halloween yard haunt. This weather resistant and wireless security device uses infrared motion detection to detect any approaching person or vehicle at a range of up to thirty feet from the sensor and then sends a alert signal to the receiver up to 400 feet away. You are notified through the receiver with either a chime or alarm. You just place the sensor/transmitter in a location outside your home and the receiver indoors. This particular detector includes the transmitter and receiver for twenty-five bucks.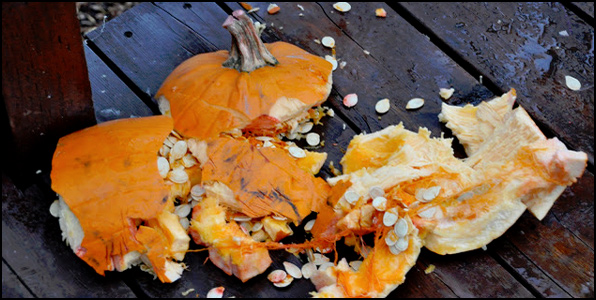 Camouflage
Another option is to cover your decorations during off hours when not in use with black plastic such as Visqueen sheeting, so potential thieves don't know what you have in your yard. This also has the advantage of adding some protection from adverse weather such as rain and snow.
Barking Dog Alarm
The "HomeSafe Barking Dog Alarm" system uses an electronic radar-wave sense control that allows it to detect through wood, plastic, brick, glass, etc. When an intruder enters the protected area, it automatically begins barking like an angry dog or can be set to a chime or siren alarm. This device uses AC power and is not designed for use outdoor use, but you can use HomeSafe outdoor wireless motion detectors to trigger the main unit from a distance outdoors.
The HomeSafe Outdoor Wireless Home Security Motion Sensor has adjustable sensitivity up to 10 meters away and has an adjustable 150 degree motion detection angle. This adjustable sensor is designed for outdoor use and has a range of up to 300 feet. When triggered it sends a signal to activate the Barking Dog Alarm.

Important - Do not confront criminals yourself! Call the police and make note of as much descriptive information about the perpetrators that you can. Keep a still or video camera near your front door so you can get pictures of the bad guys.