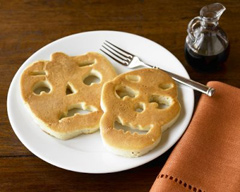 We're always on the look-out for new ways to turn everyday food into a spooky and unique meal or treat for Halloween.
We recently found a really cool set of kitchen tools that allows us do just that. The "Make-a-Face Halloween Pancake Molds" from Williams Sonoma come two to a set, one Jack O' Lantern and one Skeleton mold.
These special molds all you to create hotcakes with all sorts of haunting expressions.
Great fun for both kids and adults, these jack-o'-lantern- and skull-shaped molds are designed with knobs that let you easily alter their faces, making each pancake unique.
After preheating your griddle or skillet, and configuring the molds, you simply fill each mold with your favorite pancake batter and cook until they are done on the bottom side. You then lift away the molds and flip the pancakes over to finish cooking.
A great way to serve-up some spooky pancakes for breakfast, or as an anytime treat. Each set of "Make-a-Face Halloween Pancake Molds" comes with one of each mold and instructions.
The steel molds' nonstick finish makes for easy release and cleanup, and the handles fold for compact storage. Each mold measures 4-3/4" by 6-1/2". Set of two, one of each design.
Available from Williams Sonoma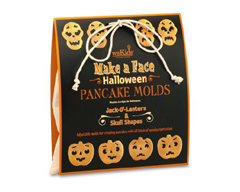 Basic Pancake Batter Recipe (4)
1-1/2 cup flour
1/2 teaspoon salt
2-1/2 teaspoons baking powder
1 egg
1 cup milk - (approximately)
3 tablespoons butter (softened)
Heat your griddle or skillet until it is hot. Sift together the flour, salt and baking powder. Whisk together egg, milk and butter in a separate bowl. Add the egg mixture to the flour and stir just enough to moisten it. The batter will be lumpy, do not over mix. If the batter is too dry, add a couple more spoonfuls of milk.
Lower heat to medium-high and lightly brush griddle/skillet with butter. Once your pancakes are done, serve while they are hot with butter and syrup.