Want to try you hand at making a pumpkin pie like they did in the old days, from scratch? Its not that hard and people will be very impressed that you made it from a real pumpkin and not canned filling.
First off, you don't use the same type of pumpkins that you use to carve. You use want are called cooking or baking Pumpkins and are smaller than carving pumpkins. Baking pumpkins are usually available at the grocery stores during the month of October.
INGREDIENTS
1 Baking Pumpkin
3/4 cup granulated sugar
1-1/2 cups (12 oz can) evaporated milk
1/2 tsp. salt
2 eggs

1 tsp.ground cinnamon
1/2 tsp. ground ginger
3/4 tsp. ground cloves
TIP: You can substitute pumpkin pie spice for all the individual spices. Use 3 tsp. of pumpkin pie spice instead.
PREPARING THE PUMPKIN
Take the baking pumpkin and cut out the top and bottom stems about two inches around them. Slice the pumpkin vertically into four or six large wedges and clean off all the seeds and stringy pulp.
Next, use a potato peeler or paring knife to remove the outer skin of the pumpkin. Dice into smaller pieces and boil as if you were preparing mashed potatoes. When the pumpkin is soft, drain in a colander and let it cool. Once they have cooled down, mash them with a potato masher, just like you were making mashed potatoes. Lastly using a hand mixer on medium-high to blend the pumpkin mash to a nice smooth consistency. You will need a total of 1-3/4 cups of pumpkin mash for one pie.
Combine 1-3/4 cups pumpkin mash, sugar, salt, cinnamon, ginger and cloves in a large mixing bowl. Beat the eggs lightly in a separate bowl and combine with filling mix. Next, gradually stir in the evaporated milk until well mixed. The filling is now ready.
THE PIE CRUST
Instead of buying a pre-made pie crust, why not try making your own. The recipe below will make enough dough for two, nine inch pies.
INGREDIENTS
2 cups all-purpose flour
3/4 cup Crisco (solid shortening)
1 teaspoon salt
5 tablespoons water
Mix the flour and salt in a large mixing bowl. Blend in the Crisco using either a pastry blender or two butter knives held together. As you blend the mixture it will begin to get crumbly, until it starts to ball-up and becomes the size of peas. Start adding water one teaspoon at a time, stirring with a fork until it becomes one large ball of dough. Divide the dough in half. Lay a sheet of wax paper that is larger than the pie pan, onto a flat surface, such as a cutting board and sprinkle with flour.
Place the dough ball on the wax paper and flatten it with your hand. Next, roll the dough out with a rolling pin dusted with flour, until it is a large circle about an inch larger in diameter than the pie pan. Place the pie pan over the flattened dough and slip your hand under the wax paper, then flip the pie crust over and into the pan. Remove the wax paper. Use a knife or kitchen scissors to trim the crust and then pinch the edges.
BAKING
Pour the pumpkin pie filling into the pie pan. Cover edge of the crust with strips of aluminum foil to prevent it from burning. Bake the pie in a pre-heated oven at 425º F. for 15 minutes, then reduce the temp to 350º F., and bake for 40 to 50 minutes or until a knife tip inserted in the center of the pie comes out clean. Cool on a wire rack or counter top for at least an hour before serving. This gives it time to set up, so when you cut it and set it on a plate, it will stay in one piece.
STORAGE & SERVING
You have now made your own pumpkin pie filling from scratch, just like they did in the old days! Store in the refrigerator, covered with plastic wrap or aluminum foil. Chilling will cause the crust to separate from the pie slightly, but it's better than getting botulism. Top with homemade whipped cream before serving and there you have it!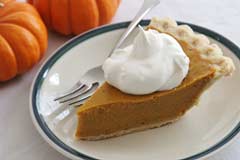 Homemade whipped cream
1/2 pt. heavy whipping cream
3 tbsp. sugar
1 tsp. vanilla

Starting on medium speed, whip the heavy cream, vanilla and sugar with mixer. As it begins to stiffen increase speed to whip. Be careful not to over beat or it will become to thick. Refrigerate in an air tight container.