A tombstone cake just sets things right for a Halloween banquet table. You can make one using the Wilton "Over the Hill" tombstone pan if you are lucky enough to find one or you can make a tombstone shaped cake yourself, using a large square or rectangle cake pan and cutting it to shape yourself.
Below is the tombstone cake pan we spoke of, which we've used for many occasions over the years, like my brother's 50th birthday and Halloween as well.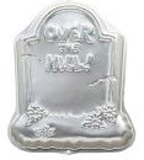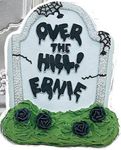 Over the Hill Tombstone Cake Pan
This aluminum cake pan is perfect for making tombstone shaped cakes with. It measures 12 inches by 9 inches by 2 inches deep. Holds one box of cake mix. It also includes easy to follow decorating instructions. If you are handy with cake decorating tools, it takes some time but looks great when finished.
This cake pan has the words "Over the Hill" pressed into it, so if you are using this for Halloween, you'll need to scrape the words off the cake. This can be done with a sharp knife but we've tried using a pasta & dough cutter, one of those flat, square things with a sharp edge on the bottom and a rubber handle across the top, will cut right through it at an angle and remove the words to make a flat cake.
Decorate accordingly, the instructions used to tell how to do it for Halloween as well. Use paste food color in your frosting mixture so it doesn't water it down. Wilton paste food color works best for just about any job that needs color to it since it's a paste, it won't water down any mixture like the liquid food color does. If you do have to use liquid color, make sure and allow for the extra liquid in your recipe. That was the simple way to make a tombstone cake. Now we'll show you step by step how to make your own using nothing but your own craftiness! Pictures to be added soon!
Step1.
Mix and bake the cake, then let it cool.
Step 2. Decide what shape you'd like it to be and "draw it out on your cake.
Step 3. Start cutting! Don't throw any cut piece away because you might need them for your design. This is the way professional cake makers do it. You may need some of the corner or other cut pieces to fill in an area, make a raised area or just frost and eat when you take a break!
Step 4. Frost the cake. Decide if you are going to use butter frosting or fondant to cover your cake. While fondant looks great, it's a pain to work with unless you know what you are doing. Fondant is a sugar frosting that is hard like dough. You can mix color into it by kneading it until completely blended or a marble like color has been made. Personally, even though I've taken cake decorating classes, I'll go with butter frosting any time! To me it tastes better, it's easier to work with and you usually spread a coat on the cake before you lay the fondant so why no just do the butter cream?
Step 5. Simple decorations or more difficult? If you have any knowledge of cake decorating it does make it easier but you can still do a beautiful job if you've never decorated a cake before. Wilton makes decorating tubes of frosting in black, orange, purple and green for Halloween. You can buy the plastic decorating tips that screw on the tubes. They also make paste food coloring, Halloween sprinkles, sugar and just about any thing that you would need for decorating your tombstone cake or any of the other cakes that we talk about in this section.