MAIN CONTENTS

Featured Articles
The latest Halloween articles from the staff of Halloween Online.
Halloween Costumes
Halloween Costumes, Halloween Masks and Makeup ideas.
Halloween Decorations
Halloween decorations you can make or buy for the spookiest night.
Halloween Recipes
Our cookbook filled with Halloween recipes, tasty tricks and treats.
Halloween Games
Spooky Halloween games adaptable for both kid's and adults.
Halloween Party
Halloween Party planning and ideas for your festivities.
Halloween Safety
Safety information, tips and suggestions for a safe Halloween.
101 Halloween Tips
That's right, 101 great Halloween tips, ideas and suggestions!
Halloween Props
Spooky Special Effects and Props for your Halloween haunt.
Pumpkin Carving
Pumpkin carving tips for carving your Halloween Jack O' Lanterns.
Movies & Music
Suggestions for the best Halloween music and Halloween movies.
Halloween Crafts
Halloween craft ideas and instructions for lots of Halloween fun.
High-Tech Halloween
Ghostly gadgets for your computer, cell-phone, Palm Pilot and more!
| | | |
| --- | --- | --- |
| --- | HALLOWEEN FINGER SHAPED COOKIES | --- |
Everyone loves finger food but what if those cookies were really shaped like fingers? We love to bake up a few dozen of these and decorate each year for our Halloween party. You can use sugar cookie dough and add a different color food paste to each batch, making green monster fingers, but more about that below!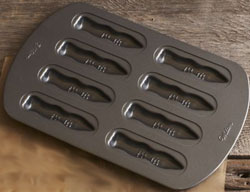 Wilton Finger Cookie Pan
This great cookie form pan is available at mass market retailers everywhere, in the Halloween section with the baking goods. The supply is usually limited so be quick about picking one or two up! You can see a well around each cookie form, you can press the cookie dough up and into the well to make removal easier, then just trim off with a knife.
As you can see, you can only make eight cookies at a time. Since they aren't very thick, they bake fast and you can get that next batch in right away. It's a non-stick treated cast aluminum pan, easy to clean. You can see that it has the finger nails and skin wrinkles right in the mold!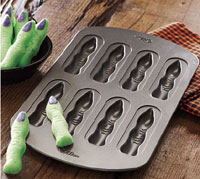 Decorating Your Fingers:
First, we make up a batch of sugar cookie dough, either from scratch if we have time or mix if not. Then we divide the dough into balls and use paste food color to color each ball by kneading it in. Using paste food color will keep the dough from getting too much liquid in it and ruining the dough. Just use a tooth pick and take a dab out of the jar, we use green for one, yellow for another, red and black.
When the cookies are cool, you can add color to the finger nail, use piping gel to accentuate the wrinkles in the knuckles, dribble red glaze over them to make the ends look bloody. It's up to you as to how far you want to go.
You can also use a halved almond in each pan where the nail is and push the cookie dough over it. It will bake into the cookie and give a 3-D effect to the cookie. This works well on the yellow fingers, making them look like old mummy fingers. We use a mixture of glaze with brown food paste in it, watered down and brush it over the nail with a small brush then wipe off with a clean tissue. It gives it an old, ancient look. Try to just get it on the almond because you don't want to get water on the cookie itself. You can use a clean cotton swab to apply it and remove it, too.
Finger cookies make a wonderful addition to your treat table for a party. Use a large rectangular serving tray and spread them out by color. You can even make little signs to place by each bunch telling what they are like "Monster Fingers", "Mummy Fingers", "Fresh Fingers", and "Witch Fingers". Kids and adults love them and they are truly the perfect "Finger Food" for your Halloween party!