Halloween themed cupcakes are easy to make, fun to decorate and will be a welcomed addition to your Halloween party or just for a snack or dessert for the kids. You can even enlist the kids to help out in the baking and or decorating process. It will get them away from the TV and give them something to be proud of when they see the finished product that they helped create!
You can find Halloween themed cupcake papers in most craft stores and mass retailers in the cake decorating or Halloween sections. You'll also find an array of Autumn and Halloween decorating tools such as colored sugar, "Jimmy" sprinkles, sugar confetti and soft sugar designs in bats, skulls and pumpkins. Some of these come in a large round container that has four or five different items in each to make decorating easier. Wilton makes the best ones.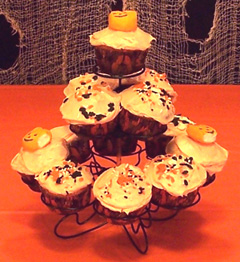 Hard icing decorations in the shapes of anything from pumpkins to bats can also be found. These are the hard sugar designs attached to paper that you can find year round for birthday cakes and cupcake decorations but in Halloween shapes. Halloween season brings an abundance of Halloween themed icing decorations to the stores. Check out most grocery stores and mass market retailers to find piping icing, flooding icing and decorating frosting all premade and packaged in disposable tubes with design tips. With such a variety to choose from, your cupcakes will be spectacular!
You can use any cake batter for cupcakes but can also find cake mix designed especially for Halloween by Pillsbury. It's a orange cake mix with black and orange sprinkles mixed in. The cooked batter comes out with these little pieces of color melted through and give any cake or cupcake a wonderful Halloween look! They also make matching frosting with Halloween sprinkles. You can use the icing decorations to top them off or try something like sticking a Halloween Peeps on the top of each cupcake for an extra special treat, like we did in the picture above.
For baking, place a Halloween cupcake paper in each hole on a cupcake or muffin tin. Follow the baking instructions on the cake mix box designated for cupcakes. When done, remove and cool. The cupcake papers can only be found in a small size so you'll have quite a few cupcakes from one batch of batter. Frost each cupcake and decorate according to your own tastes. Let the kids get in on the decorating, it will give them something to do and they'll love the fact that they helped make a Halloween treat to eat!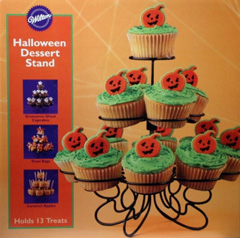 We found this cool black tiered cupcake rack to set our Halloween cupcakes in. It made a nice display on our Halloween treat table! It's made by Wilton and is also available in silver. You can also use it to hold caramel apples or treat bags for your guests.
Wilton also makes a disposable cardboard treat stand similar to this one that is decorated for Halloween. If used carefully and cleaned if it becomes messy, you can use it over again.
Using a tiered display rack to show off your Halloween cupcakes makes a great centerpiece for your treat table at a party. Center all other treats around it on the table.