MAIN CONTENTS

Featured Articles
The latest Halloween articles from the staff of Halloween Online.
Halloween Costumes
Halloween Costumes, Halloween Masks and Makeup ideas.
Halloween Decorations
Halloween decorations you can make or buy for the spookiest night.
Halloween Recipes
Our cookbook filled with Halloween recipes, tasty tricks and treats.
Halloween Games
Spooky Halloween games adaptable for both kid's and adults.
Halloween Party
Halloween Party planning and ideas for your festivities.
Halloween Safety
Safety information, tips and suggestions for a safe Halloween.
101 Halloween Tips
That's right, 101 great Halloween tips, ideas and suggestions!
Halloween Props
Spooky Special Effects and Props for your Halloween haunt.
Pumpkin Carving
Pumpkin carving tips for carving your Halloween Jack O' Lanterns.
Movies & Music
Suggestions for the best Halloween music and Halloween movies.
Halloween Crafts
Halloween craft ideas and instructions for lots of Halloween fun.
High-Tech Halloween
Ghostly gadgets for your computer, cell-phone, Palm Pilot and more!
| | | |
| --- | --- | --- |
| --- | GINGER SNAP COFFIN COOKIES | --- |
Over the years we've collected many different cooking tools to prepare our Halloween recipes with. Below are some of our very favorites.
Old-fashioned ginger snap cookies, made with molasses, butter or margarine, brown sugar, and spices. Makes up to 8 dozen cookies, depending on the size.
INGREDIENTS
2 3/4 cups self-rising flour
1 teaspoon baking soda
1 teaspoon cinnamon
1 teaspoon ginger
1/4 teaspoon cloves
1 cup brown sugar, packed
3/4 cup margarine or butter, softened
1 egg
1/4 cup light molasses
PREPARATION:
Combine flour, soda, and spices in a bowl and set aside. Cream sugar and margarine. Beat in egg and molasses until light and fluffy. Stir in flour mixture just until blended. Chill for 2 hours or more. Preheat oven to 375 degrees.
Shape dough into 3/4-inch balls, roll in granulated sugar, and place on lightly greased baking sheets about 2 inches apart. Flatten each ball with the bottom of a glass dipped in sugar. Bake about 8 to 10 minutes, until set.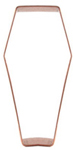 You can flatten each piece into a rectangle and cut the corners into the shape of a coffin or you can buy a cookie cutter in the shape of one. You can find them from simple ones made by Wilton to this fancy copper Tombstone Cookie Cutter, to the right, which measures 3-1/4 x 4-1/2 inches and would make a great decorated treat on Halloween. This Tombstone Cookie Cutter is 1-1/8 inches deep and is manufactured by "Made by Copper Gifts".
Cutting them by hand isn't that tough. You need to roll out the gingersnap dough into rectangles, the size is your choice, and make four cuts, two on each side sloping in to make the same shape as the cookie cutter above.
You can decorate these cookies by using a piping and flooding method which gives a smooth, glazed icing to it. Use a gray icing to glaze and when it sets, you can using frosting with a small round tip and write epitaphs on the tombstones.