MAIN CONTENTS

Featured Articles
The latest Halloween articles from the staff of Halloween Online.
Halloween Costumes
Halloween Costumes, Halloween Masks and Makeup ideas.
Halloween Decorations
Halloween decorations you can make or buy for the spookiest night.
Halloween Recipes
Our cookbook filled with Halloween recipes, tasty tricks and treats.
Halloween Games
Spooky Halloween games adaptable for both kid's and adults.
Halloween Party
Halloween Party planning and ideas for your festivities.
Halloween Safety
Safety information, tips and suggestions for a safe Halloween.
101 Halloween Tips
That's right, 101 great Halloween tips, ideas and suggestions!
Halloween Props
Spooky Special Effects and Props for your Halloween haunt.
Pumpkin Carving
Pumpkin carving tips for carving your Halloween Jack O' Lanterns.
Movies & Music
Suggestions for the best Halloween music and Halloween movies.
Halloween Crafts
Halloween craft ideas and instructions for lots of Halloween fun.
High-Tech Halloween
Ghostly gadgets for your computer, cell-phone, Palm Pilot and more!
Have A Halloween Film-Fest!
Each year, we host an evening of Halloween horror films, music and food for our fellow connoisseurs of the film macabre. While costumes are optional, they are highly encouraged and can be based on the movies we play.
It's kind of a pre-Halloween, put you in the mood party. We select a variety of horror films, some old classic, some more modern ones, and plan a long night of movie viewing. Some classics like the Halloween series are great. We show Halloween 1, Halloween 2 and H20. Halloween 3: Season of the Witch is great as well, although it has nothing to do with the Michael Myers storyline.
You can add in some old classics as well, like the original Dracula, Frankenstein and The Wolfman. Some newer horror films like Return of the Living Dead, Scream and House on Haunted Hill are great additions. Let your love of horror films be your guide.
You can find more suggestions at FearfulFilms.com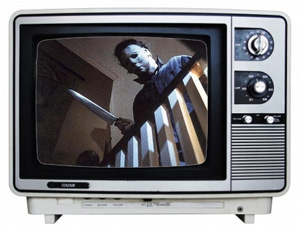 We like to decorate for this event. Since we are already gearing up for Halloween, decorating is a snap! Just get out your usual Halloween decorations and go to town. On occasion, we've held the party outside when weather permits. We'll bring our big screen TV outside, set it up with a DVD player and line up the lawn chairs, lounge chairs and camp chairs so every one has place to set.
Our picnic table is covered in a Halloween table cloth and all food can be served from there. You could even get one last grilling session in if you like. We like to have a bonfire if we do this outside. You can either dig a fire pit and line the rim with rocks or buy a free standing fire pit, they are available at most retailers and usually on sale at this time of year. It's great fun to sit around the fire, toast marshmallows or hot dogs and tell ghost stories.
Finally, set the mood with appropriate music during intermissions. We like the Elvira collection of Halloween music. There are three of them and they feature both new and old Halloween music plus some songs by Elvira herself. You can find all kinds of Halloween music CD's at this time of year so the options are endless. Check out our Halloween Music section for more ideas.

A great way to get yourself, your family and friends in the Halloween mood is to throw a Friday the 13th movie party. We usually watch the first two original movies in the series. If there's no Friday the 13th in October, we just do it on the Thirteenth of the month.