MAIN CONTENTS

Featured Articles
The latest Halloween articles from the staff of Halloween Online.
Halloween Costumes
Halloween Costumes, Halloween Masks and Makeup ideas.
Halloween Decorations
Halloween decorations you can make or buy for the spookiest night.
Halloween Recipes
Our cookbook filled with Halloween recipes, tasty tricks and treats.
Halloween Games
Spooky Halloween games adaptable for both kid's and adults.
Halloween Party
Halloween Party planning and ideas for your festivities.
Halloween Safety
Safety information, tips and suggestions for a safe Halloween.
101 Halloween Tips
That's right, 101 great Halloween tips, ideas and suggestions!
Halloween Props
Spooky Special Effects and Props for your Halloween haunt.
Pumpkin Carving
Pumpkin carving tips for carving your Halloween Jack O' Lanterns.
Movies & Music
Suggestions for the best Halloween music and Halloween movies.
Halloween Crafts
Halloween craft ideas and instructions for lots of Halloween fun.
High-Tech Halloween
Ghostly gadgets for your computer, cell-phone, Palm Pilot and more!
| | | |
| --- | --- | --- |
| --- | OTHER HALLOWEEN SOUNDSCAPES | --- |
A soundscape is a piece of music intended to create a particular mood and enhance the atmosphere based on a theme. These are not sound effects, but music. Below are our top picks for the best Halloween music and soundscape CD's.
---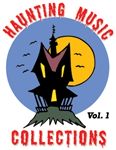 Jon Hyers of Outrageous Media has begun to create Haunting Music CDs, besides his many visual effects DVDs. Hyers, trained in Music in College, has begun recording some 20 years of tunes, using a Roland Gain, Yamaha Keyboard, and Vintage Moog Synthesizer. The idea is spooky background tracks for a wide range of situations. Much of this music is used in Jon's film, Harry Murdoch and the Curse of the Grim Reaper.
The Haunting Music Collection Volume 1
The Haunting Music Collection is, original music composed by Mpls/St. Paul Composers for the Outrageous Media, Inc. Haunting Music Project. The music is diverse in style, and is totally different than the traditional mainstream "Goofy" Halloween Music found for a bargain in many stores. The music is inspired primarily by Big Movie Horror and Mystery Music. Volume 1 features the Scarier of the CDs, and comes in a 4-pack of Music.
The Haunting Music Collection Volume 2
This 4-CD set is the continuation of Outrageous Media Inc's Halloween and Haunted House Music Series. The music is original, and created specifically by Mpls and St. Paul Musicians on this collaborative effort. These tracks are more Mysterious than Scary. Set the mood with great original music.

---

Classics From The Crypt - Preformed by the Boston Pops and Philadelphia Orchestras, these are some of the best-known pieces of classicn music, including Bach's Toccata & Fugue in D Minor, Gounod's Funeral March of a Marionette (the Alfred Hitchcock Presents theme), Grieg's Peer Gynt, Dukas's Sorceror's Apprentice and other similarly sinister sounding pieces just go to show that Classical music is for everyone and fits right in with Halloween! RCA
The funeral march music that we all know and think of is actually called the "Marche funèbre". It is in the third movement of the Piano Sonata No. 2 in B-flat minor, Op. 35, composed by Frédéric Chopin between 1837 and 1839. This works great as Halloween music when playing in your graveyard or outside your house. Left click this link Funeral March to listen to the midi file or right click and choose "save target as" to download it to your computer.
Halloween Movie Soundtracks * Halloween Sound Effects * Halloween Party Music