| | | |
| --- | --- | --- |
| --- | HALLOWEEN MUSIC SOUND SYSTEMS | --- |
Playing sinister sounding music and creepy sound effects on Halloween is an important layer to creating a spooky atmosphere. The next time you are watching a movie, try turning the audio off (mute) and see what difference its makes not being able to hear the music and sound effects. The same is true for your Halloween haunt. There are a number of ways to broadcast your tunes, each that work best for certain Halloween related applications.
Basic Computer Sound System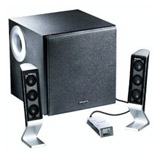 One cool advantage to using a computer is that you can play a music CD and also play WAV, MP3 or MIDI sounds files. We used to have to build the system ourselves using a Mini Stereo Amplifier, speakers and cables, but that's not really necessary any more with higher powered packaged computer sound systems available now. Using this with a lap top gives you a great portable sound system that can be programmed for your haunt or party and will play all night without having to be re-set, leaving you free to enjoy the night.
Whether you are going to play Halloween music and sound effects indoors or outdoors or both, if you plan on playing it very loud check with your local zoning board to see if there are any zoning "noise" limits. Also, you might let your neighbors know in advance that you will be playing Halloween music loud, but only on Halloween night. If you are using multiple audio sources, don't play one so loud that it drowns out the sound of the others.
We don't suggest that you use speaker wire over twenty-feet between the amplifier and speakers, but you can check with a qualified computer/audio representative to see what the maximum safe distance they recommend.
Portable CD Players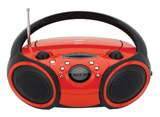 Portable "Boom Boxes" and CD players with external speakers are another way of playing Halloween music and sound effects outdoors. These work especially well when you need sound effects in a particular area, such as your Halloween graveyard and can be easily concealed behind tombstones and other props.
The Halloween Online Ultimate Sound System
If you haven't noticed, we like to super-size things here at Halloween Online. To play our Halloween music and sound effects we put together an ultimate 800watt sound system for our Halloween Haunt and for playing music at our Halloween party.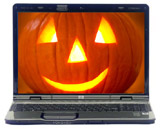 Computer
Either a laptop or desktop computer can be used, but we usually use a laptop for its portability. Its important that which ever type of computer you use that it has a high quality sound card installed to produce the best sounding music. Just load on all of your favorite Halloween music MP3's and install music DJ software such as "Traktor DJ Studio" and you are all set.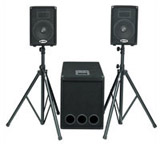 Gemini XTR-400 Speakers Packages (2)
We really wanted to produce high volume and clear audio, so we chose the Gemini brand XTR-400 sound systems. Each of the "Gemini XTR-400 Complete Powered Speaker Systems" include two GT-1002 ten inch, 85watt loudspeakers and one massive fifteen inch, 230watt powered subwoofer, for total of 400watts on each system.
We use one of these great sound systems to play our Halloween music from and the other for producing the deep, resounding sound of thunder in combination with our "Lightning Machine". A system like this takes lots of high quality audio cables. We use "Monster" and "Hosa" brand cables to connect our sound system together. If you put together a high-end audio system, don't skimp on the cost of good audio cables.
Behringer Eurorack UB802 Mixers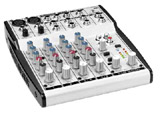 The UB802 features 2 invisible Mic Preamps (IMPs), 6 balanced high-headroom line inputs, 1 post fader FX send per channel for external FX devices and 1 stereo aux return for FX applications or as separate stereo input. There is also an effective, extremely musical 3-band EQ on all channels. The UB802 is well-suited for use with computer applications.