This extremely well cast and written spin-off of the ever popular Tremor movies chronicles the unusual events of the residents of Perfection, a microscopic community in Nevada, which seems to have Halloween everyday of the year. The Graboids, and their vicious offspring Shriekers and Ass-Blasters, pay regular visits to make havoc in this once serene little valley.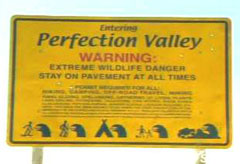 The natives of Perfection include the enigmatic survivalist Burt Gummer, the stuck in the sixties, hippy-type Nancy Sterngood, and grocery store owner Jodi Chang, all of whom are just trying to make a living.
New to Perfection is handsome tour guide Tyler Reed and Rosalita Sanchez, a bold and beautiful young woman with a secret past and finally government representative W.D. Twitchell, who keeps an eye on the whole situation.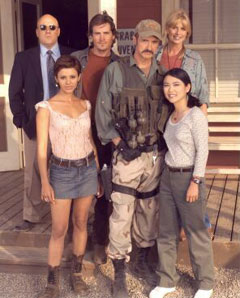 Unfortunately for the residents, these creatures are on the government's protected species list and are grudgingly allowed to live in Perfection Valley, as long as they don't harm the pesky creatures, particularly the giant Graboid known as "El Blanco."
As if this were not enough, a new complication has reared its ugly head in the form of an ultra top-secret government lab that was established in the valley more than thirty years ago, that has now accidentally unleashed a gene-blending substance known as "Mixmaster" into the local ecosystem, occasionally causing various animal and insect mutations that can recombine them into new and most often extremely dangerous monsters.
Unfortunately, the SciFi Channel did not see fit to renew this exceptional series, in spite of high ratings and a very devoted following. So, we only have thirteen episodes to cherish.
The cast of Tremors the Series
Michael Gross as Burt Gummer
Victor Browne as Tyler Reed
Gladis Jimenez as Rosalita Sanchez
Marcia Strassman as Nancy Sterngood
Lela Lee as Jodi Chang
Dean Norris as W.D. Twitchell
J.D. Walsh as Larry Norvel
Robert Jayne as Melvin Plug
Christopher Lloyd as Cletus Poffenberger
Tremors the Series DVD
Finally, after waiting for almost seven years, "Tremors the Series" has been released as a complete thirteen episode, three DVD set by Universal Studios Home Entertainment. Prior to this, if you wanted to watch this wonderful series, you had to watch a small screen, streaming video version online.
Tremors the Series - Episode Guide
For some unexplained reason, when originally aired by the Sci-Fi Channel, the series was shown out of order, as listed below.
Feeding Frenzy
Episode 1 - First aired: 3/28/2003
Burt rescues newcomer Tyler Reed from the government-protected Graboid known as El Blanco. It happens that Tyler is the new owner of Perfection's tourist business and he couldn't have come at a worse time. El Blanco is becoming more aggressive and the Perfection residents have to figure out why before they become the next meal.
Ghost Dance
Episode 2 - First aired: 3/28/2003
Three people enter an abandoned silver mine and are attacked by a strange creature that drains the water from their bodies. Rosalita thinks it's a ghost, but Burt knows it must be something else, especially when two government agents arrive in Perfection.
Night of the Shriekers
Episode 3 - First aired: 4/4/2003
Burt finds and kills a Shrieker in the valley, only to learn it was part of a government funded project to train Shriekers for rescue missions. But when a storm knocks out the equipment controlling them, the remaining Shriekers escape and multiply. To survive, the Perfection residents must make a stand at Burt's place.
Blast from the Past
Episode 4 - First aired: 4/11/2003
An Ass Blaster has arrived in the valley, already having killed two people. After going out after it, Burt and Tyler learn the AB is private property and must be taken in alive. Meanwhile, Jodi and the others take over teaching Burt's survival class.
Flora or Fauna
Episode 5 - First aired: 4/18/2003
A team of scientists find a deadly strange animal/plant hybrid growing in the valley. Burt, Tyler, and Cletus work with them to figure out how to stop it before it spreads even further. Meanwhile, Perfection has to deal with an over-excited tourist named Larry.
Hit and Run
Episode 6 - First aired: 4/25/2003
Two Las Vegas criminals named Max and Frank have to lay low before their next crime. With time on their hands, they go to Perfection to settle a disagreement about the existence of Graboids. They soon enough encounter El Blanco, which kills Max and also eats the key needed for their crime. And the only way to get it back is to kill El Blanco.
A Little Paranoia Among Friends
Episode 7 - First aired: 6/20/2003
Twitchell sends Burt and Tyler to a small town in the belief that a Graboid is responsible for recent disappearances of people there. But the townspeople believe the real cause for the disappearances are alien abductions and that the government is trying to cover it up.
Project 4-12
Episode 8 - First aired: 6/27/2003
Larry returns to Perfection and wants to learn more about Cletus Poffenberger. Tyler tells him the story of when the Perfection residents first met Cletus and had to face his increasingly dangerous pet, Four-Twelve.
Graboid Rights
Episode 9 - First aired: 7/11/2003
Protesters come to Perfection to force Burt and the others out of the valley, claiming their presence is badly affecting El Blanco's health. This leads to an awkward family reunion when Mindy is apart of the protesters. Even worse, El Blanco begins acting strangely.
The Sounds of Silence
Episode 10 - First aired: 7/18/2003
The valley has an infestation of strange bugs that make loud noises when they are about to feed. They start eating dry wood, but soon enough they move onto meat and begin making their way toward the town of Perfection. Meanwhile, Larry has decided to move into town.
The Key
Episode 11 - First aired: 7/25/2003
Frank the Gangster returns to Perfection with some help in another attempt to kill El Blanco and retrieve the key he swallowed. Meanwhile, Larry encounters a creature in a barn and tries to figure out what it is.
Water Hazard
Episode 12 - First aired: 8/1/2003
Residents of Perfection are facing money troubles and Rosalita decides to take a job at Melvin's latest business venture, the Oasis. But some of the water Melvin uses for the Oasis' lagoon actually came from Perfection and contains Mixmaster, which creates a deadly six foot shrimp. When Melvin's attempt to kill it drives the shrimp out of the lagoon, Tyler and the others must stop it before it escapes into the wild.

Shriek & Destroy
Episode 13 - First aired: 8/8/2003
Shriekers are spotted in Juniper, Arizona, and Twitchell sends Burt and Tyler to handle the situation. However, the Fish and Wildlife Service are also in town and manage to kill five Shriekers. They take one alive for study and when it gets a hold of some food, the Shriekers start to multiply again. Now Burt and Tyler have to stop them from massacring the entire town.
The original intended order of the episodes was:
1. Feeding Frenzy
2. Shriek and Destroy
3. Blast from the Past
4. Hit and Run
5. Project 4-12
6. Ghost Dance
7. Night of the Shriekers
8. A Little Paranoia Among Friends
9. Flora or Fauna?
10. Graboid Rights
11. Water Hazard
12. The Sounds of Silence
13. The Key