| | | |
| --- | --- | --- |
| --- | TERMINATOR: THE SARAH CONNOR CHRONICLES | --- |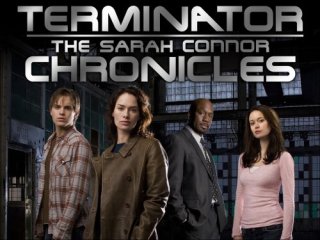 In 2008 the Fox TV Network has brought to television an intense new drama based on the celebrated heroine of the "Terminator" movies: Sarah Connor.
The Sarah Connor Chronicles television series represents an exciting reinvention of the "Terminator" franchise, in which the strong and intrepid Sarah Connor discovers that protecting her son and trying to stopping the rise of the machines is more difficult than she had ever imagined.
The "Terminator: The Sarah Connor Chronicles" pilot premiered on Sunday, January 13th. with over 18 million viewers and was Fox's #1 show for it's timeslot and #2 for the evening. The second episode, titled "The Turk", aired on Monday, which will be its regular air day.
At the end of the "Terminator 2: Judgment Day, movie" Sarah vanquished the liquid metal Terminator sent from the future to kill her teenage son, John. Sarah and John now find themselves alone in a very dangerous, complicated world. Fugitives from the law, they are confronted with the reality that still more enemies from the future, and the present, could attack at any moment.
"Terminator: The Sarah Connor Chronicles" reveals what happens when Sarah stops running and goes on the offensive against an ever-evolving technological enemy bent on destroying her life, and perhaps the world.
Her son, 15-year-old John Connor, knows that he may be the future savior of mankind, but is not yet ready to take on the mantle of leadership that he's told is his destiny. John finds himself extremely drawn to Cameron, an enigmatic and otherworldly student at his high school, who soon proves to be much more than his confidante – she assumes the role of Sarah and John's fearless protector.
On their trail are not only threats from the future, but an intelligent and tough FBI agent, James Ellison, who soon becomes a powerful ally. Can they, together, stop Judgment Day from happening and prevent the rise of the machines? Tune in each week to find out! Check your local times and listings for the Fox network.
CAST
Lena Headey as Sarah Connor
Thomas Dekker as John Connor
Richard T. Jones as James Ellison
Summer Glau as Cameron
Update - Sarah Connor Chronicles Seasons 1 and 2 on DVD


Both seasons of Terminator: The Sarah Connor Chronicles television series are now available on DVD.
Special Features include a documentary, "Creating the Chronicles", an in-depth look behind the scenes at the production process, commentaries, deleted scenes, a gag reel and more.