MAIN CONTENTS

Featured Articles
The latest Halloween articles from the staff of Halloween Online.
Halloween Costumes
Halloween Costumes, Halloween Masks and Makeup ideas.
Halloween Decorations
Halloween decorations you can make or buy for the spookiest night.
Halloween Recipes
Our cookbook filled with Halloween recipes, tasty tricks and treats.
Halloween Games
Spooky Halloween games adaptable for both kid's and adults.
Halloween Party
Halloween Party planning and ideas for your festivities.
Halloween Safety
Safety information, tips and suggestions for a safe Halloween.
101 Halloween Tips
That's right, 101 great Halloween tips, ideas and suggestions!
Halloween Props
Spooky Special Effects and Props for your Halloween haunt.
Pumpkin Carving
Pumpkin carving tips for carving your Halloween Jack O' Lanterns.
Movies & Music
Suggestions for the best Halloween music and Halloween movies.
Halloween Crafts
Halloween craft ideas and instructions for lots of Halloween fun.
High-Tech Halloween
Ghostly gadgets for your computer, cell-phone, Palm Pilot and more!
| | | |
| --- | --- | --- |
| --- | WHAT HAPPENED TO HALLOWEEN MOVIES? | --- |
When you think about all the horror movies that have been made over the past 60 years, there are literally hundreds, if not thousands, of them. From 50's horror/sci-fi to recent trash like Hostel and Turistas that borders way too close to torture porn for my tastes, you can pretty much have your choice of horror genre. Not all are good and not all are our cup of tea but there is truly something out there for everyone.
But stop and think about good horror movies that are based solely on the holiday of Halloween. Can't think of many, can you? We can think of four: Halloween, Halloween 2 (the originals), Trick r' Treat and The Crow. While The Crow isn't directly about Halloween it does take place in Detroit on Devil's Night and Halloween and the main storyline took place on Halloween and that's why Eric Draven comes back for revenge.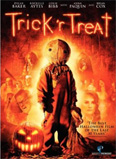 Here's what got this idea started. We usually start watching a horror movie a night starting on September 1st but this year we went a day early and watched 2009's Trick r' Treat. We think it is one of the best Halloween movies made in a long, long time, in fact, we can't find one thing wrong with the movie. It was originally made in 2007 but it had trouble finding a distributor for a planned October 5th, 2007 release into theaters. How unfortunate that it never made it to the big screen because I would have loved to see it at a theater. It's four intertwined stories all centered around an odd little creature named Sam, who's as cute as he can be unless you don't like Halloween. Don't give him candy or blow the light out on your Jack-O-Lantern before the night is over and you are in for so trouble! And from there the intertwining stories start.
You get to see what he really looks like under his burlap mask at the end of the film and I think he's still kinda cute. The whole movie is great, you should give it a try if you haven't seen it yet. It's a Canadian made film and you'll see lots of people that you recognize like Anna Paquin (True Blood), Brian Cox (Deadwood), Britt McKillip and Christine Willes (Dead Like Me) and Brett Kelly (Bad Santa). There's a serial killer, werewolves, a bully who gets hers and so much more! The DVD also includes the original animated Halloween greeting that creator Michael Dougherty used as his inspiration for the whole movie. It's filmed in a very dark, brooding atmosphere which fits right in with the theme of the movie. It's just a great film, 'nuf said!
The original John Carpenter's Halloween and Halloween 2 can't be beat by any remake, as far as we are concerned. You just can't beat the original and it's sequel, which starts right where the first one leaves off. I've watched the Rob Zombie remake and saw the original in the theater many, many years ago. There's just no comparison. The original holds up just as well today in terms of suspense and scares. It's a staple around here all October and definitely on Halloween night. The soundtrack alone is so memorable, once you hear it you never forget. You hear the first few opening notes and immediately know what it is.
If you really think about it, Halloween is a sugar-coated holiday today with a very old, bloody past. It still holds a sinister feeling today if you let yourself feel it. Some of us are just more in tune with our inner witches then others. There's so much to work with on Halloween night so why is it that there are so few films directly about Halloween in that vast world of horror films? The Hollywood machine just can't seem to do anything lately but churn out remake after remake of old horror films. Take the remake of Halloween, Nightmare on Elm Street, Straw Dogs, The Wicker Man. Year after year it's been nothing but some of the most worthless pieces of crap they dare call horror movies. Hollywood has lost it's edge as far as coming up with any new ideas in the horror genre, you have to admit it. Except for a handful of films like Trick 'r Treat, Drive Angry and Predators, I can't think of any that I've seen and enjoyed. I'm sure some people will think those movies were crap but to each his own.
There has to be some creative script writers out there that have some wonderful ideas or authors that would love to have their novel made into a movie that is set on Halloween night. Where are they? Michael Dougherty can't be the only one and if he is, he needs to start working on a sequel because Sam has a lot more work he can do on Halloween night.
Indie writers, directors and film makers used to come up with some great stuff but even that bunch have dried up it seems. It's all about the big buck. It cost $50,000,000.00 to make Trick 'r Treat. I chocked when I read that. How can it cost so damn much to make a movie? They made it back with some to spare but all in all, that makes it a flop and it's not. It should be about the box office, it should be about how good the film was. Great movies gave gone un-noticed because they didn't make box office and slipped into DVD oblivion. The world just isn't fair.
So, in closing, I guess that we are stuck with 4 or 5 great Halloween holiday based movies to watch for Halloween. If anyone can think of anymore, just let us know. And, no, The Nightmare Before Christmas is not a Halloween holiday movie, it's a Christmas movie but it is enjoyable just the same. I just can't believe with all of the horror fare that we have to chose from that there can only be a small handful of Halloween holiday based horror flix to enjoy and get us in a Halloween mood. At least what there is, is worth watching over and over again.