HOME IMPROVEMENT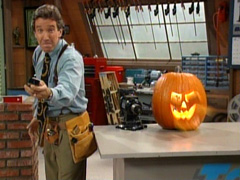 "The Haunting of Taylor House"
Season 2 - 1992 - Episode #30
It is Halloween and Brad is having a party for his friends. He and Jennifer have decided to dress up as Raggedy Ann and Raggedy Andy. But a spat puts Jennifer together with a biker boy and Raggedy Andy stands alone! Will the advice from Tim save Brad's relationship or sink it? Will Tim throw a good scare into the partiers again this year?
HOME IMPROVEMENT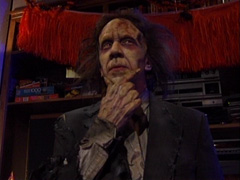 "Crazy for You"
Season 3 - 1993 - Episode #55
It is Halloween and Jill plans to get even with Tim "The King of Halloween" Taylor, who always plays tricks on her and everybody else on Halloween. Marie pretends to be "Rose," Tim's "biggest fan" on Tool Time. With death as Jill's costume theme for this year, will Rose end up offing Tim over her obsession?
HOME IMPROVEMENT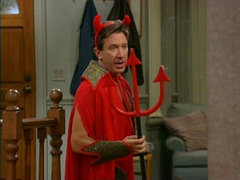 "I Was a Teenage Taylor"
Season 6 - 1994 - Episode #133
In a battle of Halloween pranks, Brad and Randy score first fright, then turn Tim and Jill's retaliatory effort around on them. But who will laugh last? Watch as Jill & Tim really let the boys have it this Halloween for a scare they will never forget! Lots of laughs, lights and In A Gadda Da Vida!
HOME IMPROVEMENT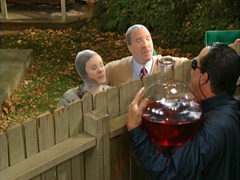 "A Night to Dismember"
Season 7 - 1997 - Episode #156
When Mark features the family in his Halloween horror movie, Tim and Jill wonder if the weird and ghoulish subject matter are a reflection of Mark's true feelings toward them. Meanwhile, it's Halloween Week on Tool Time and Tim has built a hot-rod jack o' lantern for a pumpkin mobile race.
HOME IMPROVEMENT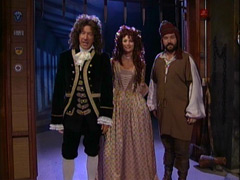 "Bewitched"
Season 8 - 1998 - Episode #182
Tim becomes a murder suspect after Wilson mysteriously disappears following his Halloween party. All evidence points toward Tim even though he claims that Wilson's new lady friend, a coven witch, is the one police should be questioning. Watch as "the king of Halloween" is once again out pranked by the gang!