MAIN CONTENTS

Featured Articles
The latest Halloween articles from the staff of Halloween Online.
Halloween Costumes
Halloween Costumes, Halloween Masks and Makeup ideas.
Halloween Decorations
Halloween decorations you can make or buy for the spookiest night.
Halloween Recipes
Our cookbook filled with Halloween recipes, tasty tricks and treats.
Halloween Games
Spooky Halloween games adaptable for both kid's and adults.
Halloween Party
Halloween Party planning and ideas for your festivities.
Halloween Safety
Safety information, tips and suggestions for a safe Halloween.
101 Halloween Tips
That's right, 101 great Halloween tips, ideas and suggestions!
Halloween Props
Spooky Special Effects and Props for your Halloween haunt.
Pumpkin Carving
Pumpkin carving tips for carving your Halloween Jack O' Lanterns.
Movies & Music
Suggestions for the best Halloween music and Halloween movies.
Halloween Crafts
Halloween craft ideas and instructions for lots of Halloween fun.
High-Tech Halloween
Ghostly gadgets for your computer, cell-phone, Palm Pilot and more!
| | | |
| --- | --- | --- |
| --- | THE JOHN CARPENTER HALLOWEEN MOVIES | --- |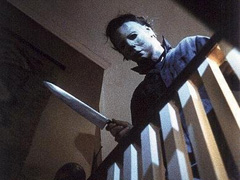 The Halloween series of movies has been one of the most remembered and influential, horror movie franchises in history. The original storyline and characters created by John Carpenter and Debra Hill back in 1978 were incredibly real and believable.
This series developed what would come to be known as the Slasher sub-genre of horror movies. The film turned the slasher movie into a viable, successful genre and remains the standard to which all other modern horror films are measured. Below are the current movies in the Halloween movie line:
Halloween (1978)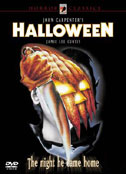 Perhaps the most influential and successful independent horror film ever made, the first Halloween movie was an exercise in pure terror. Halloween takes us into the world of a supernatural killer, Michael Myers, who at a very young age stabbed his older sister to death on Halloween night.
Locked away for many years in a mental hospital Michael escapes one night and returns to his hometown to continue his killing spree. Jamie Lee Curtis, in her first role, plays the resourceful babysitter stalked by the inhuman killer on Halloween night. Produced on a tight budget, Halloween was a stunning success when it was released.
Halloween II (1981)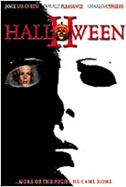 The nightmare of the first Halloween movie continues in this chilling sequel. Picking up right where the last film ended, this sequel begins as Dr. Loomis shoots Mike Myers multiply times, only to watch helplessly as the killer stands up and runs away.
Laurie Strode, the teenager last terrorized by Myers, is taken to a nearby hospital to recover from her injury and traumatic ordeal. But Myers isn't through with her yet, and works his way through the sleepy town, leaving a river of blood in his wake. Determined to get his revenge on Laurie, he eventually descends upon the hospital -- and the dark secret that binds the two of them is finally revealed.
Halloween III - Season of the Witch (1982)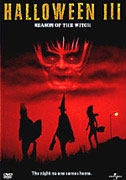 In the third Halloween movie installment, which has nothing to do with the first two films, a warped Irish toy maker hatches an evil plot to enact bloody mass murder across America on Halloween night.
He creates creepy masks which force the wearer to commit violent acts of murder on the night of Halloween when television commercials for the special masks are watched. Many people didn't like this movie at all, probably because it was a stand alone story that did not include the infamous Michael Myers storyline. However, if you forget the title, its a very unique idea and not a bad movie at all.
Halloween 4 - The Return of Michael Myers (1988)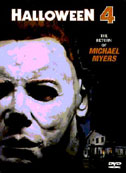 A decade ago, he butchered sixteen people trying to get to his sister. He was shot and incinerated, but still the entity that Dr. Sam Loomis calls "Evil on two legs" would not die. Tonight, Michael Myers has come home again…to kill!
This time, Michael returns to Haddonfield for Jamie Lloyd – the orphaned daughter of Laurie Strode – and her babysitter Rachel . Can Loomis stop Michael before the unholy slaughter reaches his innocent young niece? This sequel was the long-awaited return to the original storyline and remains infamous for its startling twist ending.
Halloween 5 - The Revenge of Michael Myers (1989)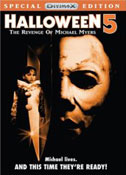 Michael lives. And this time, They're ready! Because Hell would not have him, Michael Myers survived the mine explosion thought to have killed him. One year later, his traumatized young niece Jamie is horrified to discover she has a telepathic bond with her evil Uncle…and that Uncle Michael is on his way back to Haddonfield, and not for a friendly visit.
But Dr. Loomis has a new plan to destroy The Boogey Man in his childhood home using Jamie as bait. The carnage is about to begin again and Michael Myers is back with a vengeance!
Halloween - The Curse of Michael Myers (1995)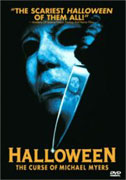 In a single horrifying night, Michael Myers' masked reign of terror changed Halloween forever! Now, six years after he was presumed to be dead in a massive fire, Michael Myers has returned to kill again and again and again -- and this time there seems to be no escape.
As an added twist, a mysterious cult has shown an interest in the supernatural powers of Michael Myers and frees him from the Haddonfield Police Department, then abducts Jamie Lloyd for a secret purpose. By the end, the long-hidden secrets of the screen's most maniacal murderer are revealed...with shocking results!
Halloween: H20 (1998)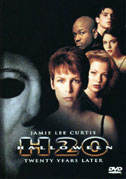 Twenty years after the original Halloween movie, Laurie Strode, now the headmistress of a private school under an assumed name, is still struggling with the terrifying memories of the psychotic killer Michael Myers.
That horror becomes a reality once again when Michael returns, embarking on a murderous road trip from Illinois to California, killing three more people and stealing a victim's car before threatening the lives of Laurie's rebellious son, his girlfriend, and the school security guard. It's up to Laurie to conquer her internal demons and end Michael's evil. And a conveniently placed ax might just help her accomplish this!
Halloween - Resurrection (2002)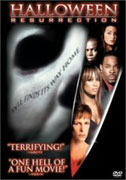 Original Halloween star Jamie Lee Curtis is back in this latest story in the Halloween horror film series! The reality programmers at DangerTainment have selected Rudy, Bill, and a group of thrill-seeking teenagers to spend one fun-filled night in the childhood home of serial killer Michael Myers as an Internet stunt.
But the planned live broadcast turns deadly when their evening of excitement becomes a night of horror as Michael Myers himself decides to crash their party and brings his own party favors, which he distributes to each and all in his own warm way!
Halloween (2007 Remake)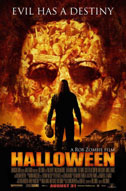 Rob Zombie's horrible remake of the classic scary movie. Zombie unleashes his version of Michael Myers on audiences who crave more of the original Halloween movie style of fear.
Unfortunately, this remake retells, read that as changes, the original story that removes the supernatural element from the Michael Myers character that we have all come to know and fear, and reduces him into a plain, run of the mill, serial killer. While this movie is okay as a mass murderer flick with the same "less story...more gore", movies that have been churned out lately, it should have never been associated with the Halloween series of movies.
Halloween: 25 Years of Terror (2006)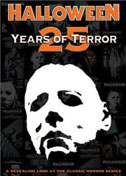 Narrated by P.J. Soles (who played Lynda in the original movie) this documentary examines the legendary horror film and its legacy of more than four sequels. First released in 1978, Halloween was directed by horror legend John Carpenter and featured Jamie Lee Curtis in a breakthrough performance.
"Halloween: 25 Years of Terror" contains interviews with more than 80 people involved in the Halloween franchise including John Carpenter, Jamie Lee Curtis, Clive Barker and many other horror aficionados. If you love the Halloween movies, this is a great documentary to watch and enjoy.
The "Halloween" Movie Soundtrack


Probably no other music chills the Trick or Treat season like the music from the classic movie "Halloween."
Movie director John Carpenter wrote the chilling music himself, and in doing so created a classic soundtrack that you can't hear without instantly thinking of this movie and it's maniacal killer Michael Myers. The music on this CD is great background music for any haunted house, front yard cemetery or Halloween party.

So memorable and popular are these Halloween classics that a slew of documentaries have been produced about them.

'Halloween': A Cut Above the Rest
This feature-length documentary includes producer Moustapha Akkad, director John Carpenter, co-writer Debra Hill, actors Nick Castle (The Shape), Jamie Lee Curtis (Laurie Strode), Charles Cyphers (Sheriff Leigh Brackett), Donald Pleasence (Dr. Sam Loomis), P.J. Soles (Lynda van der Klok) and many others. (2003)

'Halloween' Unmasked 2000
Narrated by Dee Snider, this documentary/retrospect on the making of the movie Halloween, featuring exclusive interviews with director John Carpenter, producer Debra Hill, and stars Jamie Lee Curtis, PJ Soles, and Nick Castle. (1999)

Halloween: 25 Years of Terror
A documentary that follows the evolution of the 'Halloween' movies over the past twenty-five years. It examines why the films are so popular and revisits many of the original locations used in the films - seeing the effects on the local community. For the first time, cast, crew, critics and fans join together in the ultimate 'Halloween' retrospective. (2006)

Halloween: The Inside Story
"Halloween: The Inside Story" takes a look at one of the most successful film franchises of all time as it goes behind the scenes of John Carpenter's "Halloween," the "frightfest" that redefined the horror genre in the late 1970s. It's an inside look at Michael Myers and the Halloween terror he unleashes on the poor teenagers of Haddonfield, Ill. (October 25th. 2010)

The Nightmare Isn't Over: The Making of Halloween II
Retrospective documentary about the making of "Halloween II." (2012)

Stand Alone: The Making of Halloween III
Retrospective documentary on the making of "Halloween III: Season of the Witch." (2012)