The Best Documentaries and Specials for Halloween Viewing

The Haunted History of Halloween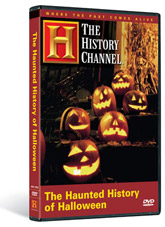 Over the years much has been written and televised regarding the history and origins of Halloween. From books to television documentaries and many web sites, people have tried to offer explanations for this long lived celebration, usually with biased opinions and blatant inaccuracies. This changed in 1997 when the History Channel produced a well researched and unprejudiced documentary titled, "The Haunted History of Halloween".
Host Harry Smith leads us on a three-thousand year old tour through the history of the quintessentially pagan holiday which has survived to become one of America's most popular cultural holidays where on October 31, when pint-sized ghouls and goblins knock on doors, they're actually carrying on a tradition that goes back thousands of years to the Celtic tribes of northern Europe. For centuries this night has celebrated mystery and chaos, a time between summer and winter, a time between life and death.
You will discover how trick or treat originated in ancient Ireland's harvest festivals, when food and sweets were offered to entice the dead to stay in the spirit world. See how Christianity tried to co-opt the celebration by turning it into All Saints Day. The Haunted History of Halloween is a delicious journey into the enchanting past of the spookiest night of the year. History Channel - Original Airdate: 1997.

The Real Story of Halloween
Halloween began centuries ago as a pagan holiday that honored the dead that warned of a netherworld of spirits and ghosts. Today, Halloween has morphed into a day for breaking rules, pushing boundaries and wearing disguises. But Halloween remains a time for us to deal with our own mortality. Our modern Halloween traditions have ancient roots – people were going door to door and begging for treats on Halloween night as far back as the Middle Ages.
We may think our Halloween celebrations are crazy, but those in the past have been wilder and more dangerous than they are now. During the depression, Halloween became so violent and destructive that civil authorities had to step in and prevent wide-spread vandalism in cities across America. Their solution, the ritual of "trick or treat," now generates $2 billion dollars in candy sales each season. And these days adults get dressed up for the holiday almost as much as kids do. But no matter how many jack-o-lanterns get carved or kids yell "trick-or-treat!" Halloween is still all about the "scare." Two thousand years and counting, and we still like to be scared on the night of October 31. History Channel - 2010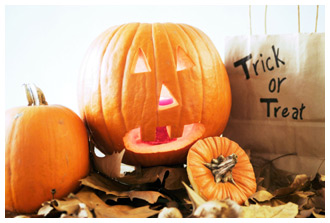 Modern Marvels: Halloween Tech
Here come all the scary, gory, and sugary things that make Halloween a $6 billion powerhouse. Get a behind-the-scenes look at Knott's Berry Farm's 35th annual Halloween Haunt. See the manufacturing of Hollywood-caliber monster make-up and learn how to apply it like the pros. Watch scary latex masks cranked out by the tens of thousands and get a sneak peak at the hottest costumes past and present.
Every year we nibble on over a billion kernels of Candy Corn, carve over 400 million pounds of pumpkin for the most extreme jack-o-lanterns ever made, watch how hundreds of gallons of fake blood get manufactured, and visit a haunted house with an annual attendance of over 50,000 that'll have you screaming for mercy. History Channel - Original Airdate: 2008

Halloween Crazy
From a terror Mecca to a Zombie Prom, flip through pictures of the biggest and most shocking of what Halloween has to offer including the Dent Schoolhouse in Cincinnati, the Darkness haunted house in St. Louis, the Philly Zombie Prom and San Jose's Psycho Donuts. First part of a three year trilogy. Travel Channel - Original Airdate: October, 2011

Halloween Crazier
Just when you thought it was safe, Halloween's getting even crazier! We're exploring the attractions and events that take this haunt-filled holiday over the top. Get ready to brave a freaky mental hospital on the open sea, compete in a pumpkin racecar derby and flee from zombies through an insane 5K obstacle course! No matter how you celebrate, one thing's for sure: these Halloween favorites will leave you screaming for more! Travel Channel - Original Airdate: October 07, 2012

Halloween Craziest
This special features the most terrifying, extreme and absolute best of what Halloween has to offer. From America's scariest, no-holds-barred haunted house in San Diego, to British Columbia's pumpkin drop celebration, each destination is more frightening and fun than the last!
Travel Channel - Original Airdate: October 13, 2013

Halloween Tricked Out
From California to West Virginia, Florida to New Jersey and back again, Halloween Tricked out visits the most amazing haunts and homegrown Halloween installations in the country. We show viewers unique ways to spookify their spaces, increasing their scare-factor a thousand times over.
Whether it's a man in West Virginia that carves three thousand pumpkins to display around his home, a dairy farm in New Jersey that features a terrifying haunted hayride like no other, a Halloween-lovin' couple in Florida that go all out when decorating the interior of their home, a backyard haunt that boggles the mind in California, or a scream-worthy haunted corn maze in North Carolina, these Halloween features are sure to both inspire and astound. HGTV - Original Airdate: October 2012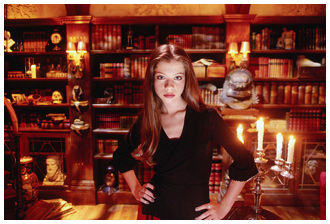 Truth or Scare
The True Story of Halloween
The television series it self chronicles famous hauntings, spooky legends and paranormal phenomena from around the world. It is hosted and narrated by actress Michelle Trachtenberg. Presented for younger viewers, but fun for any age.
In this episode, host Michelle Trachtenberg describes the history of Halloween and traces modern-day traditions such as trick-or-treating and bobbing for apples back to their Celtic roots. Discovery Kids network.

America: Facts vs. Fiction - Trick or Treat and The Real Edgar Allan Poe
We don't always know the truth behind what scares us. On this episode of America's Facts Vs. Fictions, learn that today's version of Halloween isn't all that ancient and in segment two, that writer Edgar Allan Poe was not the madman that others have made him out to be. AHC - Original Airdate: 2013
Halloween's Most Extreme


Every autumn a frightening fever sweeps the nation from its biggest cities to its smallest towns. It's the annual opening of eerie exhibitions: Haunted houses, creepy mazes and frightening fairs. Abandoned prisons and decrepit cruise ships re-create scary scenes and tales of terror for chill seekers to enjoy. Each year there are new trends in the business of fear, including live performances by actors trained to terrify even the toughest customers. These attractions have morphed beyond the neighborhood haunted house and have become popular tourist destinations across the country. They showcase huge record-breaking pumpkins and take you through the world's largest Halloween superstore. From big to just plain bizarre, our whirlwind tour of "Halloween's Most Extreme" continues with a glimpse inside the most unique customs around the nation, including Halloween weddings, coffin racing and underwater pumpkin carving. Travel Channel - 27 October 2007

Halloween...The Happy Haunting of America
This 1997 documentary contains interviews with various horror movie icons and pokes fun at the horror movie industry and the horror culture in general. Hosts Daniel Roebuck and Bob Burns take the audience on a ghastly and entertaining tour of some of the greatest haunted houses around the country. It features 40 of the greatest horror attractions in America and is a mix of laughs and screams. Original Airdate: 1997

The American Scream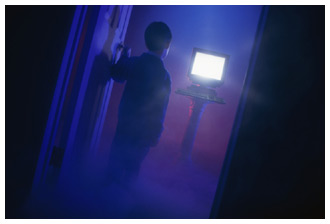 A Chiller Channel original documentary, the American Scream centers around a small town in Massachusetts where the community takes creating their own haunted houses very seriously. An look at the Halloween cultural phenomenon of homemade haunted houses and the enthusiasts behind them.
Filmed in the sleepy enclave of Fairhaven, MA, The American Scream follows the creative minds behind three local homemade haunts and their passionate - and sometimes harrowing - efforts in igniting their town's Halloween spirit each year. Original Airdate: 2012.

Playboy: Hef's Halloween Spooktacular
Join Hef and friends at the world's greatest Halloween party - Hef's Halloween Spooktacular - at the Playboy Mansion. See how Hef turns the Playboy Mansion into the most haunted house in America one night a year. Meet the Playboy Playmates, Hef's girlfriends Holly, Bridget & Kendra and celebrity guests as they party all night in costumes that will blow you away.
Get ready for a naughty-licious, ghoulish romp at The Playboy Mansion Macabre! Join Hostess Elvira, the mistress of the dark, and a host of celebrity guests. There are a bevy of Playmates in eye-popping costumes that mysteriously begin to disappear. Boo! Contains some nudity. Original Airdate: 2005