Used correctly, those little bags of stretchable spider web you can buy during the Halloween season can add a great effect to certain areas of your home haunt. There are all sorts of places that you can add spider webs, such as between porch posts, over windows, in corners, on furniture, over doorways, between tree limbs, on fences, and over or between Halloween decorations and props.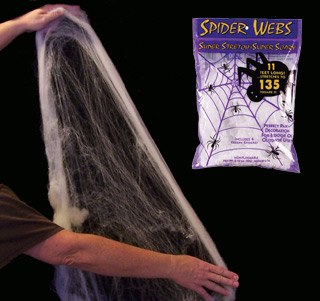 While they are available in white, black, orange and glow-in-the-dark green, we only use the white colored web because it looks the most realistic. The only exception is if we will be using the web under a black light and want it to glow. In this case we will use the green colored web. While stretchable web can be used outdoors, it is subject to the effects of weather, particularly the wind and rain.
Many people have a difficult time making stretchable spider web look like the real thing, particularly on their first attempt. The most common mistake is not stretching the web material out far enough. They either try to stretch out the entire bag of webbing or just pull off a big hand full and end up with too much at one time to work with effectively. We learned a long time ago that its all in the technique that's used and the trick is to make very thin veils of spider web.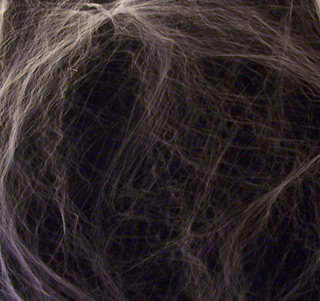 Stretchable web usually comes as one long hank of material in the bag and this stuff really does stretch a lot and a little goes a long way. How much you start with will depend on how big of an area you want to web, so you will want to experiment a little to get the knack of using it.
The best and easiest way to work with stretchable web is for two or more people to work together. Begin by removing all of the web from the bag and stretch the whole piece out. Using scissors, cut a piece off at the length you need it to be.
Next, strip off a piece from this smaller piece and start begin pulling the material out slowly in all directions. The more you stretch it out, the thinner and less dense the web becomes and more realistic it will look. You can also twist the veils of web material slightly as you tack it up to create irregular shapes.

Once you have it stretched out quite a bit, you will want to attach part of it to the area you want it in, working from the highest point to the lowest. Generally speaking, the more anchor points you have, the better it will look. Tape does not hold this type of web very well, so we use tacks for small areas and a staple gun for large areas.
Once the first piece is all tacked-up, you can add another veil a few inches over the top of the first one. Overlapping one layer of web over another like this looks the most realistic, particularly in corners and between Halloween props. Once the web system is complete, add fake spiders to finish the effect, just remember that stretchable spider webs won't support much weight, so only use small light-weight plastic spiders.
An example of using stretchable web over a large Halloween decoration or prop, such as a body cocooned in a corner would start with adding one or two veils of web close in to the corner. Next you would attach the prop to the wall or suspend it from the ceiling using fishing line. Then add more veils of web over the prop, so that the cocooned body is actually inside the webs, not just behind or in front of them.


Real spider web is a natural silk protein made within the spiders body and is very strong for its size. It has more tensile strength than steel of equal weight and much greater elasticity. They use this unique material for trapping their prey, protection from predators and for building their home.