Many of us have a fireplace in our home, but seldom take advantage of it as a place to display Halloween decorations. Be sure to clean out the fireplace thoroughly before placing your Halloween decorations inside or they will get covered with ashes and soot. Also, clean the glass front so that the decorations will be as visible as possible.
Jack O' Lantern in the Fireplace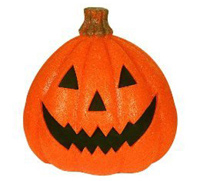 For a fireplace effect the creates a nice, warm Halloween glow, we place a large plastic lighted Jack O' Lantern inside, on top of the grate.
The jumbo sized "Sparkle Pumpkin", purchased at a Target department store during October is a beautiful Halloween decoration that has the outside appearance of being crystallized and really shines when the internal light is switched on. This really makes your fireplace and the room its in, glow with a spirited orange radiance from within.
Hanging Legs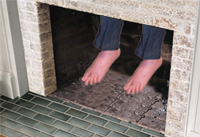 For a bit of dark humor, here's an easy to setup Halloween decoration that will creep out your guests and make them laugh at the same time. All you need is a pair of fake novelty feet/legs, that you hang from inside the fireplace. These inexpensive fake legs can be found at most department stores during the Halloween season. They are only made as left feet, but your guests probably won't notice.
Hanging Skeleton Legs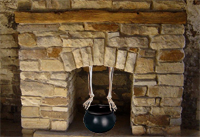 Similar to the effect above, but instead we used two skeleton legs with feet. There are two options you can use for the legs. The first and most realistic is a pair of "Bucky" skeleton legs.
The second option would be to buy a cheap plastic skeleton, remove the legs and hang them in the fireplace. We used bent wire coat hangers to attach the legs inside the fireplace.
Mantle Scarf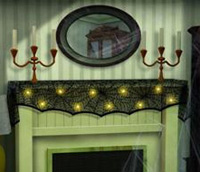 There are a few mantle scarves on the market that really look great. The Midnight Lace light up mantle scarf is perfect to add a haunted look to any room with a fireplace.
The Midnight Lace Mantle Scarf isn't just a decorative mantle scarf, it is also lighted with ten orange LED Lights, giving your fireplace a cheery Halloween glow. Measures 96" x 18". Scarf is made of 100% Polyester and is machine washable.
Cob Webs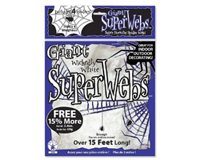 Adding a thin layer of cob webs to the inside and/or outside of your fireplace adds that creepy touch. The stretchable cob web that comes in a bag work well for this and can be attached to the outside of the fireplace and surrounding walls with tape or tacks.
Unlike a cob web shooter that shoots out webs made from a very sticky material, these webs are easy to remove and do not stain or damage your furniture or walls. Add a few fake spiders for an extra effect.
Thunder and Lightning Effect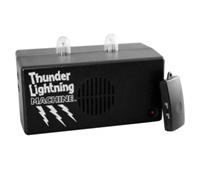 Place a small thunder and lightning machine like the one shown to the right up, inside the fireplace to simulate a thunder and lightning effect. The "Thunder and Lightning Special Effects Box" works fairly well for this.
Simply, attach the unit to the flue handle with tape, so that the flashing light and sound effect seems to be coming from up inside the chimney. Just push the button, or use the motion sensor mode to create thunder crashes and a bright strobe lightning effect.
Lighted Mantle Garland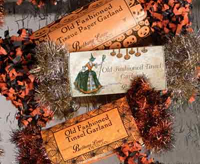 For a fiendish fireplace mantle decoration we use a variety of Halloween decorations to create a really great looking Halloween garland display including Glitter Garland, Black Garland Oak, Strings of LED Pumpkin Lights and a Lighted Pumpkin Lawn Stake Set.
It really adds to the room and there are so many spooky materials available during the month of October to make a mantle-piece and its so easy that there's no reason not to do it.
Halloween Wreath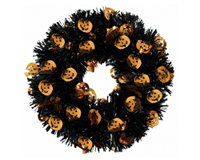 A Halloween wreath looks great hanging on your front door during the Halloween season, but they also look wonderful hanging above your fireplace.
There are many commercially made Halloween wreaths available or you can make your own that suites your own sinister tastes. Click here for how-to instructions for making your own Halloween wreath or click here to see some of the commercial made Halloween wreaths available.
Fireplace Facade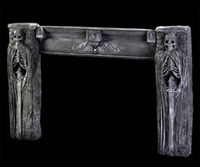 Don't have a fireplace? Well, never fear, the "Gothique Fireplace" from CastleBlood.com is a full size hard-foam gothic style facade that features ancient skeletons standing at attention as they guard your most sacred fire. This trim is so ghastly you may want to leave it up all year. Made from a hard, durable foam and measuring four feet tall by six feet wide by eight inches deep.
While you can attach this to an existing wall as is, we like to first attach the facade to a sheet of plywood. First, cut a piece of quarter-inch thick plywood to the correct size for the fireplace facade to fit on and then paint one side with flat black paint. You could even paint fake flames on the back-board if you want. We attached ours to the wall with finishing nails.
When using any of the Halloween decorations, including those above, you should never use a real fire in your fire place!