Every year, when the stores begin stocking their shelves with Halloween products you will inevitably see those orange plastic pumpkin pails that kids use to hold their treats.

Since they are very inexpensive, selling for only around a dollar a piece and come in several different styles, sizes and shades of orange, we began trying to think of ways that they could be used as Halloween decorations.

What we came up with was a unique and festive way to create an outdoor Halloween tree that our visitors just loved. In addition to a lot of great comments, many people asked for detailed instructions so they could do the same thing in their yard next year.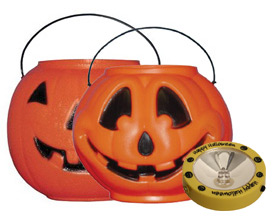 First, we selected the tree that we wanted to use. The larger the tree, the more pumpkin pail you can hang in it and the more impressive it will look. On the down side the taller the tree, the taller the ladder you will need to hang them up.
Next, we took thirteen of these pumpkin pails and placed an Artificial Candle Pumpkin Light inside each one. These great battery powered lights randomly flicker just like a real candle using three ultra bright yellow colored LED bulbs and can be used inside these plastic pumpkin pails because there is no flame that would cause a fire hazard. The random flickering inside the pumpkin pails is what really makes this a great looking effect.
Each unit uses three AAA batteries and will easily last all night long. We put the batteries in a couple of days before to save time, as we are always very busy on Halloween.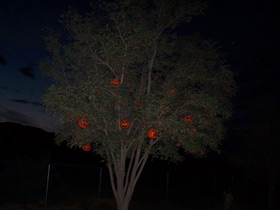 Once the pumpkin lights were situated inside the pumpkin pails, it was time to bring out the ladder.
About a couple of hours before dusk, we switched on all of the lights by pressing the little button on the side and hung the pails in the branches of chosen Halloween tree using twist ties attached to a handle and a branch.
As we hung the pails, we were careful to position them so that the embossed Jack O' Lantern faces were pointing in the correct direction, so that our visitors would be able to see them clearly.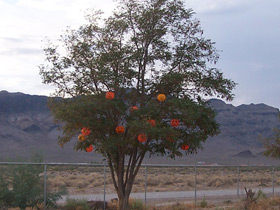 If you believe that you might receive any rain in your area, drill a hole in the bottom of each pail as a drain and then slip each Pumpkin Light into a Zip-Lok bag to protect it.
Since the pumpkin pails are translucent, the flickering light from the artificial candles show through them quite nicely. Once they were all hung and the ladder was removed, we had our 2006 Halloween tree. It was complete with Halloween decorations and ready for all to see.
The day after Halloween, we remove all of the batteries from the Pumpkin Lights so that they don't leak and damage the unit while in storage over the next year. We wrap each Pumpkin Light in bubble-wrap and pack them in a small box, and store them with our other Halloween decorations. The pumpkin pails can be stored in large boxes or lawn bags.
**Unfortunately, Pumpkin Lights is no more so you can use any battery powered pumpkin light which can be found at most drug stores and mass market retailers in the Halloween section**
Halloween Decorations Hanger
Because of the height of the tree we chose to use, we were only able to hang the pails about half way up the tree using our ladder. To hang the rest on higher branches we assembled an extension pole from two pieces of 1/2" electrical conduit pipe.