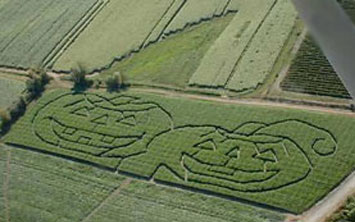 If you have a fairly large and flat lawn, you can create some really cool looking outdoor Halloween decorations by trimming the grass to look like a spooky symbol or figure.
The larger and thicker your lawn, the larger and more detailed the Halloween crop circle you can make and more impressive it will look.
A simple Jack O' Lantern, skull, vampire bat, tombstone or words such as "Happy Halloween" or "Beware" look great and are fairly easy to sculpt.
Needless to say, you must live in a geographical location where you can grow grass in the Fall. This usually eliminates cold area's where the low temperatures restrict growing. Its best to create your Halloween lawn sculpture no more than a day or two before Halloween, so that its edges will be well defined.
Begin by letting your lawn grow out to several inches in height. This can take a week or more depending on your particular geographic location, temperature, type of grass, etc. Now cut it with the blade of your lawn mower set to its highest height. This is usually accomplished by setting the height of the wheels on most lawn mowers. This will make a smooth and flat lawn.
Next, its time to start sculpting the figure into your lawn. Before you begin trimming, gently pickup or rake away any leaves, twigs or clumps of grass clippings that may have accumulated on it.
Visualize what you want to trim into the grass, then using a Weed Eater or similar type trimmer, carefully trim your chosen Halloween symbol or words into the lawn just like a crop circle. Using a trimmer allows you to make much more defined and tighter patterns than if you used a lawn mower, but you must be much more careful.
Take your time and be sure to hold the trimmer level and even over the grass at all times while trimming or your symbol will have uneven depths. For the best look, try to leave about a half inch of grass above the ground and not trim all the way down to the dirt.
This lawn art should show up during daylight hours very well, but will not be visible during the night unless you light your lawn with flood lights.
Once Halloween is over, just let your lawn grown back out and mow to remove the symbol or words.
Tip - If you are making more than one word, start with the longest word. This makes it easier to gauge the right spacing and distance for the shorter words.
staff