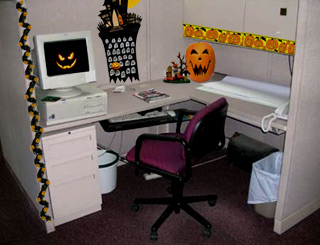 The Halloween season inspires most people to decorate their homes, yards and places of business, but many also decorate their work spaces as well.
Whether you have a private office or work in a cubicle, October is a wonderful time to show your love of Halloween by decorating. Below are some tips and suggestions to help you celebrate Halloween at your place of work.
The most important thing that you must do is get permission and decorating guidelines from your employer before decorating. Explain that you want to celebrate in a small way and that it will not interfere with your work. Let your boss know that you will decorate on your own time by coming in early or staying late to decorate. Again, don't let your decorating and celebrating interfere with your work or jeopardize your job!
Most coworkers will enjoy your enthusiasm and may be inspired to decorate their own work areas. But never underestimate the ability for one person to ruin something everyone else enjoys. Now days it seems like there is always one person that hates everything and will do whatever it takes to stop you from bringing a little holiday cheer into your life and the lives of your coworkers. Beware of these hateful types.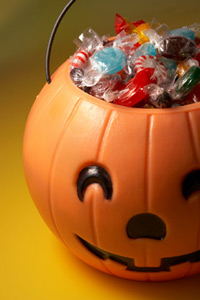 Decorating for Halloween
In general, putting up Halloween decorations a week before October 31st. is acceptable and gives you a whole week to celebrate. To maximize your decorating area, start by cleaning and clearing your desk and workspace. Since you will have limited space use small decorations. Don't overload your desk, cubicle, etc. with so many decorations that you can't work effectively. Remember, if your productively suffers as a result of your decorations, your employer may take action.
Never forget that the office is a place of business. Choose Halloween decorations that won't be a distraction to you, your coworkers or clients. Fog machines, bright flashing lights and music/sound effects should not be used. Don't use any gross or gory decorations or props. Decapitated heads and dripping blood is out, unless it fits with the normal decor of the office of course...
Think safety! Don't do anything that could be a physical hazard to you, other employees or the business.
Use office supplies such as orange colored sticky notes and printer paper, Halloween themed pens and pencils, etc. Print out a Halloween Calendar for the month of October and tack or tape it to the wall. Drop off a Halloween greeting card to your boss and each of your coworkers.
A small plastic Jack O' Lantern, cauldron or festive dish filled with candy really looks great and can be a tasty treat for your fellow workers. Place a small Halloween tree on your desk. These and small decorations can be bought at a craft store. Small tabletop Halloween decorations such as a Lemax Spookytown haunted house work great.
Your computer is another place to spookify, just be sure to get permission and technical assistance before making changes to a company computer such as installing software. If you inadvertently crash your work computer or unknowingly install a virus, you could get fired. Start by temporarily changing the wallpaper (background) to a Halloween or Autumn themed picture. Add a Halloween screensaver. Again, nothing too distracting.

Make or buy a small Halloween wreath and hang it on the front or side of your desk, or on your cubicle wall. Surrounding the inside top edge of a cubicle with lightweight Halloween garland looks festive.
If the business is considering a company Halloween party, be sure to check out www.HalloweenOfficeParty.com for some great ideas and suggestions.