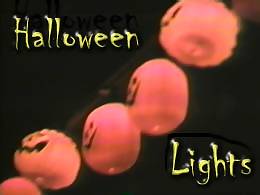 Although you only do it once a year, decorating the exterior of your haunted home for Halloween can be a very time consuming task, but with a well thought out plan and some volunteers, you can have your lights up in no time.
The first step is to create a master plan of what your decorating will look like. The best way is to make a rough sketch of your house, yard, garage or anywhere you'll be decorating. This should include anything that you will hang lights and/or decorations on, including fences, trees, etc. Be sure to indicate where all your exterior electrical outlets are located.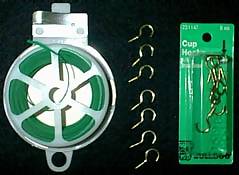 Hanging lights on your house and fence isn't difficult, but there are a few things that can help make it even easier.
Always check the package to find out how many light sets can be connected to each other so you don't overload your circuits. Miniature cup-hooks are great for stringing light sets along a wood surface. You can also use a staple gun can to fasten the lights into place, but be careful not to staple through the wire.
Plastic light hooks are available at major retailers and hardware and are used to secure lights to the gutters of your home. When you put outdoor lights up, besides watching out for overloaded circuits and cords, you need to be sure that water won't damage the lights or cause a short circuit. If you have an open ended plug it can be easily covered using a plastic outlet cover available in child safety section of department stores like Wal-Mart.
LIGHTED DISPLAYS
Position your yard displays for the best impact on your trick or treaters. This might mean experimenting with positioning before you set them securely in place. Use a small floodlight or two to focus attention on the display if it isn't a lighted display piece.
EXTENSION CORDS
Don't go cheap here! For outdoor use only heavy duty, outdoor rated extension cords. Make sure to position all extension cords so that they won't be tripped over. Never run them across a walkway, sidewalk or door opening. This is an accident waiting to happen.
And don't forget to take pictures of your house with the lights on. The best time of day is at dusk when the Halloween lights shine brightly but there's still enough daylight for the camera to take great pictures. When the first Halloween decoration hunters roll around complete with a backseat full of kids, their faces glued to the windows in awe, you'll see that all your hard work really was worth it!
WEATHER CONSIDERATIONS
Rain, wind, snow and other adverse weather conditions can cause a problem with outdoor lights and lighted displays. Make sure the lights are rated for outdoor use.
We start putting up our lights at least two weeks before Halloween.
FIGURING OUT AMPERAGE
Q) How do I figure out how many amps of electricity I am drawing with my circuit?
A) To figure out how many amps of power you are using, add the total WATTS and divide by source VOLTAGE. Example: A string of 25 lights that have 7 watt bulbs would be (25 Bulbs X 7 Watts = 175 Watts. 175 watts Divided by 110 volts = 1.59 Amps.)
HALLOWEEN FIGURE DISPLAYS
Q) Where can I get patterns for making wooden outdoor Halloween Figures?
A) One of the best pattern suppliers in the world is the "Winfield Collection". The Winfield Collection is one of the few reasonably priced mail order catalogues that carry a wide variety of indoor and outdoor woodcraft patterns. Best of all, the patterns are delivered right to your home! All you have to do to get your free catalogue is call (toll free) 1-800-WINFIELD.They also now have a web page and can be found at http://www.thewinfieldcollection.com.
Q) The instructions on my mini light set states "If one bulb burns out the rest stay lit." Why are all of the lights on my string out?
A) If any part of string does not light please attempt the following: Firmly push each bulb into the base to secure it in the socket (occasionally bulbs will loosen). Remove each bulb and base from the socket. Straighten the wires which extend from the bottom of the base, then bend around the base. Insert bulb firmly into socket. Check to make sure the fuse in the plug did not overload (if there is one). If it was overloaded, then replace the fuse in the first set and all of the sets will re-light. Practically all light sets come with spare bulbs and fuses.
The above should also be followed if half of your mini/icicle light string is out. How can half of your lights be on and the other half off? The answer is simple. Your light string is wired 1/2 and 1/2 in series. That means that if you have a break in the circuit, the half of the string in which the break occurs will appear "burnt out". The best advice anybody can offer is to follow the steps outlined above. If that doesn't work, it's possible that there is actually a break in the wire. In this case, throw the lights out and buy new or return them for a new string.
TIPS: Replace burned out bulbs as soon as possible, as they will cause other bulbs to overheat and will reduce the life of the whole string.
Have you ever noticed that some strings of lights look brighter than others, even ones that are the same type? There are a number of factors which determine the brightness of any given string of lights.
1. When running a long extension cord, a lot of electrical energy is lost due to the resistance of the wire. Using outdoor extension cords that have 16 gauge wire or better will help.
2. The wire used in light strings is light duty and is not designed to handle excessive amounts of electrical current. So string as few strings together as possible.
Q) The Halloween lights that I purchased contain a fuse in the male-end plug. When I connect more than 5 strings together, the fuse "burns out", preventing all 5 strings from illuminating. What can I do?
A) The main reason that light manufacturers' install fuses in the male end of Halloween lights is to prevent an overload. There are a few ways around this problem. First, read the box the lights came in to make sure that you aren't connecting too many strings together. That rule is there for a reason. Next, you could run numerous extension cords to every fourth or fifth string of Halloween lights. This will break up the electrical load traveling through the wires of the light strings. Unfortunately, this can get costly, not to mention create a rather unpleasant mess of extension cords.
They should all carry the Underwriters' Laboratories, Inc. label. Extension cords should also be UL-labeled for outdoor use. As with indoor lights, don't plug too many lights into a single circuit. Remember that in most houses the outdoor outlets are probably on the same circuit with indoor outlets, lights, and appliances; this will limit how many light strings you can plug in safely.
If you're one of those families who put up huge light displays every Halloween, you may already have special circuits just for the yard display. If not, you should think about having an electrician come and add extra outlets on a separate circuit breaker for the outside of your home.