Creepy Cloth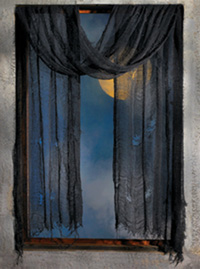 Used in commercial haunted attractions for years, distressed, tattered, torn and shredded looking cloth gives the visual impression of the area being deserted and dilapidated, and can look very creepy if used correctly.
This product is now sold in most department stores as a Halloween decoration. There are several brand names for this type of material including Freaky Fabric, Spooky Cloth and Creepy Cloth.
The material used for this cloth is typically a thin, gauze-like fabric that is made to look old out of the package. Colors available are off white, black and green. You can easily cut or tear it to create the look you want.
Most are flame retardant, but be sure to check the package before purchasing to confirm that it is.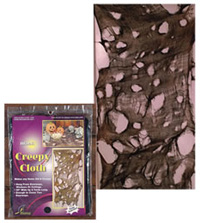 Perfect for that haunted house look, you can hang or drape it over many places and things to give that spooky look, such as:
Hang it over your windows
Hang it over doorways
In the corners of the room
Hang it from or on the ceiling
Drape it over your furniture
Attach small pieces to tombstones
To attach simply use thumb tacks, but try to find tacks with heads that match the color of the cloth so they will blend in.
---
Burlap Cloth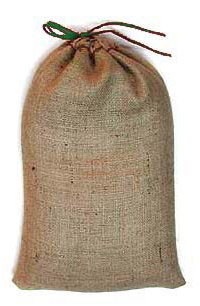 Burlap is a course textured and very tough fabric most often used in making heavy duty bags and sacks for shipping dry goods and for making sand bags.
While not quite as easy to work with as Creepy Cloth above, it has many uses for Halloween decorations and props. If used as part of a costume you don't want it directly on the skin because of its very rough texture, making it uncomfortable to wear.
Burlap cloth can usually be found in fabric stores and is now available in several different muted colors including black, tan, brown, green, gray and off white.
Some of the uses for burlap include:

Tattered clothing for Halloween Scarecrows
The head of a Halloween Scarecrow
As a base material for tabletop decorations
Shredded it makes creepy looking window curtains
As part of a Halloween costume or mask
---
Muslin Fabric
Muslin is a type of finely-woven cotton fabric usually white or off white in color. It is useful in many Halloween projects including:
Mummy Props and Costumes
Halloween Craft Projects
Gauze Material
Gauze is a thin, translucent cotton based fabric with a loose open weave. It is useful in many Halloween projects including:
Mummy Props and Costumes
Ghost Props and Costumes
Bandages for Injured Creatures
Halloween Craft Projects