| | | |
| --- | --- | --- |
| --- | HALLOWEEN COLLECTABLE TOYS | --- |
Did you like scary toys when you were a kid? Do you still love those things today and find they make great collectables?
Playing Mantis - Memory Lane "It's the Great Pumpkin, Charlie Brown" figures and sets.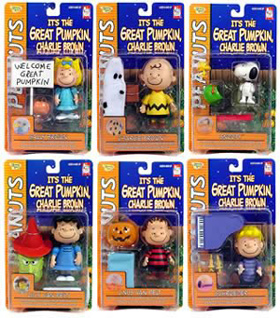 Produced in the '60s, the classic ˝ hour television cartoon from the Charles Shultz Peanuts comics are treasured by adults and children alike. Among the ones we remember growing up is "It's the Great Pumpkin, Charlie Brown!" Playing Mantis did a line of posable action figures from that Halloween television cartoon.
Charlie Brown – the hero of this classic story comes with a ghost costume, trick-or-treat bag, and a display stand. Linus Van Pelt – the true believer among the group, Linus comes with his immortal blanket and display stand. Sally Brown – Charlie's younger sister, Sally comes with a "Welcome Great Pumpkin" sign and display stand.
Also available are: Lucy Van Pelt – Charlie's antagonist, comes with her classic witch's mask, pointy hat, and display stand, Snoopy – the dog that always believes in walking to his own tune, comes with Woodstock, flight helmet, goggles, and display stand and Schroeder – Lucy's love comes with his grand piano, candelabra, and display stand.
These were available in single packs or special three-figure box sets. The first boxed set featured Charlie, Linus, and Sally. The second boxed set featured Lucy, Schroeder, and Snoopy. In addition, this special series features Snoopy as the classic Red Barron. He comes sitting on top of his dog house decked out in the helmet and goggles, ready to fight off the enemy! All boxed sets come with display stands that can be joined together to form a pumpkin patch diorama, which is perfect for Halloween table displays! Even though these were produced many years ago, you can still find them if you look.
Mattel Toys has come out with the occasional creepy set of dolls around Halloween.
Lily and Herman Munster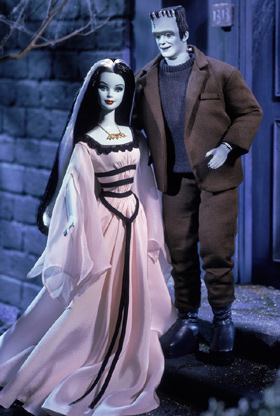 The perfect as the beloved, offbeat couple from the famous 1960s TV show, "The Munsters."
The famous "Barbie Doll" is elegantly ghoulish as Lily Munster, complete with Lily's raven black hair and signature white streak. She wears a flowing light pink gown that sets off the eerie shade of her greenish skin. The dress is an authentic reproduction, with wing-like cut-outs at the arms and a black tie at the waist. A bat hanging from her necklace and black fingernails complete her look.
The "Ken Doll" as the frightful, but good-natured Herman towers above Lily. He has Herman's monster-like look, with an exaggerated forehead and brow, flat-top head that appears as if it can be opened and two bolts in his neck. He wears an authentic reproduction of Herman's brown suit, charcoal sweater and oversized gray boots.
Now unavailable, you'll have to check out sites such as e-bay or anywhere that Mattel collector dolls are sold.
The Addams Family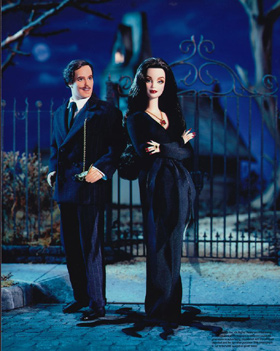 Darkly divine, handsomely refined, the wonderfully creepy Addams Family is re-created by Barbie and Ken dolls.
Barbie eschews the commonplace and is drop dead gorgeous as the unforgettable femme fatale, Morticia Addams. Her fabulous black gown, inspired by the acclaimed drawings by Charles Addams, features chiffon flares. Long raven hair, dramatic eye makeup, and gothic shoes complement this eerie ensemble. Her final ghoulish detail: a large garnet-like pendant.
Ken wears his own reproduction of the Addams style: a navy and white pinstripe suit featuring a dapper golden chain. His dark hair, mustache, and sideburns bring Gomez to life. Marvelously macabre and delightfully dreadful.
Celebrate a decidedly different love story with The Addams Family. They are a "must have" for any Barbie collector or those who love the Addams Family. Wouldn't you love to find this gift set under your Halloween tree on All Hallows Eve? You can find this product at places carrying the Barbie collector lines, such as e-bay.
Living Dead Dolls became an instant collectable as soon as they hit the stores!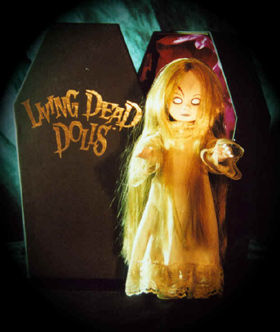 Damien, Eggzorcist, Sin, Posey and Sadie - These are the coolest dolls that we have ever come across!! They come cleverly packaged in their own little coffin, are 10" tall and fully poseable with rooted hair. They have cute but deadly little accessories like knives and pitch forks!
They are the most ghoulishly adorable little dolls you have ever seen! Available from Mezco Toyz and created by Ed Long and Damien Glonek. When these dolls hit the stores in 2000, they were an immediate hit with Goths and lovers of the macabre everywhere.
Still around today, you can find them in select stores like Hot Topic and on e-bay as well. Each doll includes a death certificate. Many of the dolls have been retired so you'll have to hunt for these but as far as we know, they are still producing new dolls.