| | | |
| --- | --- | --- |
| --- | HALLOWEEN TRICK-OR-TREAT BAGS | --- |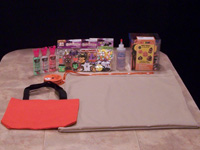 If your child will be trick-or-treating this year, why not let them make their own bag! They can personalize it and use it for years to come! This is a great project for a rainy day or week-end and it's fun and easy to do.
Supplies:
Pre-made Fabric Halloween Bag (orange or black) or Pillowcase
Fabric Glue
Foam Halloween Cut-out Designs
Fabric Paint
Large Sheet of Poster Board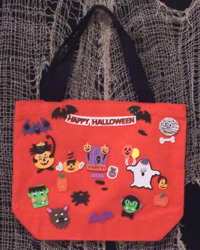 Pre-made Bags: Small children might want to use the pre-made fabric bags that come in orange or black that can be found at craft stores this time of year. They are a smaller size, have carrying handles and just right for the little ones.
Older kids may want to use a standard size pillow case so they can rake in the Halloween booty big time! You can find inexpensive pillow cases at mass retailers or use on old one from home. Any color is fine but white, tan or black will work best.
If you are having a Halloween party for the kids, this would make a great project to keep them busy for a while!
You may not even need to use fabric glue as most of the foam cut-outs have a sticky backing on them that holds to material quite well. If you do need to glue them, we suggest using a white craft glue, like Tacky Glue to hold them down.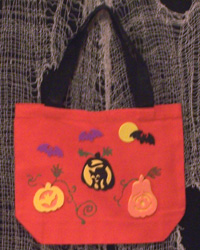 You'll also want to insert a piece of construction paper or card board inside to keep them from sticking together if the paint bleeds through.
Let the kids pick out foam Halloween designs which you can find at arts and craft stores. You can find them in individual packs all the way up to big containers of multiple designs. Ghosts, bats, pumpkins, witches and monsters all make for a great bag.
Use fabric paint to write "Happy Halloween", "Tricks or Treats" or any Halloween saying that they'd like. They can also use these to make designs around the foam cut outs, add stars and moons or whatever they want to add. We added vines and leaves to our Jack-O-Lanterns on one side of the bag and did a Halloween Party theme on the other side.
Pillowcase Bags: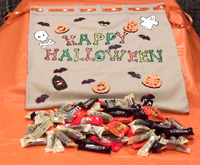 First, because even a standard size pillow case is so big, we turned the pillow case inside out and stitched a line across the bag six inches from the bottom. We then flipped the un-sewn end up and left a one inch tab at the bottom. Using a zig-zag stitch, we went over the original stitch, making a double stitch and a more secure bottom on the bag.
Using fabric glue, let them pick out foam Halloween designs, which can be found at arts and craft stores or in the craft section at mass retailers. You can find them in individual packs, theme packs and big containers of multiple Halloween designs. Using ghosts, bats, pumpkins, witches and monsters all make for a great bag. Your child can pick what they want for designs, position them and glue them on with fabric glue. Let the glue set according to manufacturers instructions.
Fabric paint comes in many texture varieties including puffy, shiny, matte and gloss. There is a multitude of colors available, we like to use the neon and glow in the dark colors in orange, purple, black, white and glow-in-the-dark green. You can find smaller bottles that come in packs with a variety of colors which are less expensive than buying full size individual bottles. You'll want to slip a large piece of poster board inside the pillow case so the fabric paint doesn't bleed through.
Use fabric paint to write "Happy Halloween", "Tricks or Treats" or any Halloween type saying. They can also use these to make designs around the foam cut outs, add stars and moons or whatever they strikes their fancy. Let them express themselves!
You can use wide Halloween ribbon to make a closure at the top by cutting slits every few inches on both sides of the hemmed edge of the pillowcase and threading the ribbon through. This will keep the treats inside and give them something to use as a handle to carry it with. Making these simple projects with your kids is a great craft project, they'll have fun being included in making them for using on that special night of the year, Halloween!
---
Go Green – Reusable Halloween Bags for Kids and Adults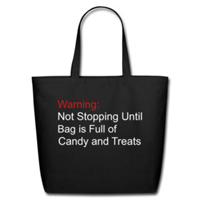 If you are conscious of the environment as well as saving money (especially in this down economy) there are many ways you can save during this Halloween season. One of the easiest ways (and green ways for the environment) is to purchase an economical Halloween reusable candy or gift bag. There are some great bags that are both cute and funny making collecting candy stylish. These bags can also be used after Halloween for groceries, carrying toys, towels and sand items to the beach, etc.
Warning: Not Stopping until Bag is Full of Candy and Treats
This cute Halloween bag is great for any child that loves to fill up their bag of candy. It is sure to get laughs!

Got Candy?
This cool looking black bag has a great skull with the message "Got Candy?" underneath. A great creepy and funny bag!

Trick or Treat Pumpkin
This great pumpkin face bag has the message "Trick or Treat" underneath the face. A great bag for both adults and kids.

Spider Treat Bag
This cool black bag has a red spider across the face of the bag. Can be used for carrying anything even after Halloween.

Goth Bag
This cool logo bag is great for anytime, even after Halloween is over.
There are many more different bags to choose from as well as having the ability to create your own here. It is important to take care of our environment as well as be able to re-use your costumes, props and bags to save money and do the right thing! Happy Halloween!