MAIN CONTENTS

Featured Articles
The latest Halloween articles from the staff of Halloween Online.
Halloween Costumes
Halloween Costumes, Halloween Masks and Makeup ideas.
Halloween Decorations
Halloween decorations you can make or buy for the spookiest night.
Halloween Recipes
Our cookbook filled with Halloween recipes, tasty tricks and treats.
Halloween Games
Spooky Halloween games adaptable for both kid's and adults.
Halloween Party
Halloween Party planning and ideas for your festivities.
Halloween Safety
Safety information, tips and suggestions for a safe Halloween.
101 Halloween Tips
That's right, 101 great Halloween tips, ideas and suggestions!
Halloween Props
Spooky Special Effects and Props for your Halloween haunt.
Pumpkin Carving
Pumpkin carving tips for carving your Halloween Jack O' Lanterns.
Movies & Music
Suggestions for the best Halloween music and Halloween movies.
Halloween Crafts
Halloween craft ideas and instructions for lots of Halloween fun.
High-Tech Halloween
Ghostly gadgets for your computer, cell-phone, Palm Pilot and more!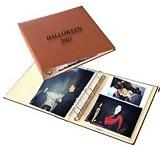 Photo Albums
Photo albums are the traditional way of storing your Halloween pictures. There are many types of photo albums to be found from the usual book type to photo blocks to the flap type that can hold up to 300 pictures.
These are simple books used for filing photographs and usually don't have any space to record dates, people or places. You might want to try your hand at something more creative and add some flare to tour photo memories.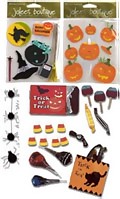 Scrap Booking
Like a photo album, a scrapbook tells a visual story and contains the very best photographs you've taken of your Halloween festivities. The photo album and the pictures it contains is then embellished with other items such as Halloween memorabilia, appropriate headlines, written narratives, poetry, quotations, stories, or other relative ontent.
Next, trinkets, confetti, glitter, stickers, movie ticket stubs for a scary movie you may have gone to see, etc. are glued or taped to the pages creating a montage. You can make your own or buy all sorts of Halloween scrap booking products available at arts and craft stores during the Halloween season.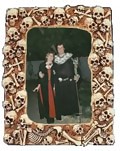 Picture Frames
Picture frames are the traditional way of displaying your Halloween pictures year round. Some of the Halloween retailers that pop up at this time of year are staring to carry picture frames on a Halloween theme.
Or, you can make your own from plain photo frames and some inexpensive crafts supplies like we have done in past years. Read the article about Halloween Picture Frames in the Dark Decor section here.

Web Pages
Some personal websites are virtual scrapbooks. If you have your own web site or blog, you can create your own online photo album to display your Halloween pictures. If you use a traditional camera, you'll need to scan your pictures using a scanner connected to your computer.
If you use digital, you can up-load the pictures directly to your computer and using a graphics program, add titles, names, funny quotes, etc. It's a nice way to let friends and family across the country see what you did for Halloween!