Decorating your mailbox for Halloween is a great way to let everyone that drives by know that your family is filled with the Halloween spirit.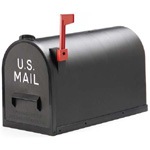 For our first Halloween mailbox we purchased a basic metal mailbox from the local hardware store and masked off the flag with newspaper and masking tape. Using orange colored outdoor spray paint, we gave the whole thing a good coat and let it dry for a day.
Then applied a second coat of the paint. Next we used craft paint to paint on the mail box to create a Jack O' Lantern face. Once the mailbox was finished, we mounted it to a 4"x4"x5' piece of lumber and secured it in the ground. Our neighbor painted his mailbox door to look like a tombstone.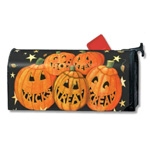 Another option is to use a commercially made Halloween mailbox cover. These vinyl covers are available in a variety of styles such as the " Pumpkin Smiles" cover one shown to the right and attach by simply wrapping the cover around the mailbox and using its two long magnetic strips to hold it in place.
Most of these covers are designed to fit a standard sized mailbox. After Halloween, be sure to remove the cover and pack it away for next year. You can find an assortment of Halloween and other holiday mailbox covers at www.inthewindflags.net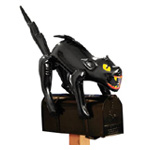 Inflatable "Mailbox Monster's" are commercially made vinyl mailbox decorations that sit on top of your mailbox. All you do is inflate and attach it to your mailbox with the included straps. The Cat version of the Inflatable Mailbox Monster, shown to the right, is approximately thirty inches long from nose to tail. These Mailbox Monster's also include a vinyl patch kit just in case you need to any repair small holes. They are currently available in three designs, Ghost, Witch and Black Cat. Check with your local Halloween store for availability.
Do-it-yourself mailbox adornment can be as easy as attaching a Halloween decoration to your family mailbox. In this case we took a large Halloween skeleton doll and attached it with zip-ties so that it looks like the skeleton was riding the mailbox. Another creepy effect is to use a large "fake" spider draped over the outside of the mailbox. Just use your imagination and you can create something really spooky. Make sure that what ever you use, it doesn't not interfere with the mailbox door or keep the postal worker from being able to put mail in the box.
You can build your own unique Halloween mailbox , but call your local post office to make sure that it is within their regulations first. Use a large foam Jack O' Lantern that has a mouth opening large enough for the postal worker to put mail through. In case you'll have out-going mail, you can buy just the mailbox "flag" assembly at your local hardware store and attach it to the side of the foam pumpkin using a long bolt and nut. Connect the Jack-O-Lantern securely to a four-by-four piece of lumber as the post and plant it securely in the ground. Be sure to temporarily remove or cover your regular mailbox, so you don't confuse your postal worker!