The timeless classic, The Wizard of Oz, is still a film that is watched by millions every year. It's also a popular line of costumes for Halloween with everything from Dorothy to the Flying Monkeys and the Wicked Witch to the Lollipop Guild costumes available. There is also a wide assortment of pet costumes available in this line that are very cute!
The fun thing about the Wizard of Oz costume line is that costumes are available for men, women, kids, tweens and teens, so the whole family an get in on the theme! Here's a few examples of the Wizard of Oz costume line. All the adult costumes shown here come in sexy versions for women, too.
---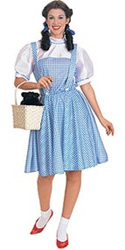 Dorothy Costume
Before you head off to see the Wizard, make sure you're in the right costume!! This Wizard of Oz Dorothy Costume will transform you into one of the most beloved heroines in American cinema!
This Women's Wizard of Oz Dorothy Costume comes with a blue and white gingham print romper and a white shirt with puff sleeves and blue trim! Just add a lovely pair of red glittered slippers and a basket with Toto for a complete Wizard of Oz theme!
Items not included are Toto, Basket, Socks, Shoes, Hair Ribbons and Wig. Costume comes is sizes Standard (10-14) and Large (14-16).

---
Wicked Witch of the West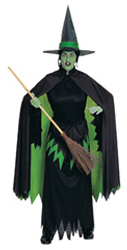 She's coming for you and your little dog too! Dorothy's foe, the Wizard of Oz Wicked Witch of the West costume comes with a floor-length black dress with a jagged hem and green accents on the top of the skirt!
This also comes with a black cape lined with green, and even a black witch hat with green ribbon detail! Grab a broom, a set of witch shoe covers, a nose and makeup to complete this costume look! It comes in one size, Standard, which fits sizes 10 -14.
---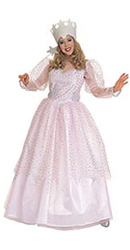 Glinda, The Good Witch of the East
Glinda was the good witch that helped Dorothy along her journey. This adult Glinda the Good Witch costume comes with an opulent pale pink dress with shimmery glitter overlay and with a towering silver crown!
Pick up a lovely wand and a blonde curly wig to complete this look. Add a pair of sparkly pink slippers, too! You'll also want to do an ethereal makeup to give her a fairy look.
It comes in one size, Standard which fits women's size 10-14.

---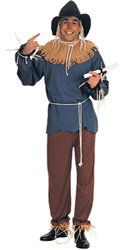 The Scarecrow
This men's Wizard of Oz Scarecrow costume is an awesome look that doesn't require a whole lot of thought!
This Wizard of Oz Scarecrow costume comes with a blue shirt and brown pants. It also comes with a rope cord for a belt and a black and brown headpiece!
Put a diploma with this costume to prove that you do have a brain! So for an astoundingly awesome costume, add this to your Wizard of Oz theme! It comes in one men's Standard. It includes Headpiece, Shirt, Pants, Belt Cord but you'll need to add shoes and a Diploma. A mask is also available for this costume.
---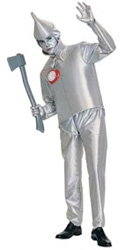 The Tin Man
Dorothy found the Tin Man with the help of the Scarecrow. He was all rusted and stiff but after a good oiling, he was just fine!
This Tinman costume comes with a shiny silver jumpsuit with rounded body and high collar! The Tinman Costume also comes with a silver hood with an oil funnel top! Get yourself a heart clock to complete your Wizard of Oz theme, along with all costumes shown here.
This costume comes in one size, Men's Standard. It includes the headpiece and jumpsuit. You'll have to pick up your own heart clock, faux axe and shoes. There's also a great mask for this cosume!
---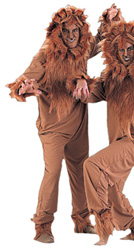 The Cowardly Lion
Dorothy depended on the Cowardly Lion for his courage their journey down the Yellow Brick Road. Head off to see the Wizard in this Men's Cowardly Lion costumes.
This costume can also be worn by women, just adjust the size you'd wear according to the men's size chart. Not much else is needed for this costume but a face makeup to give you that lion look.
Available in men's sizes Medium, Large and XL. Costume includes jumpsuit and matching headpiece but you supply the makeup! Masks are available for this costume.


---
You'll also find costumes such as Flying Monkey costumes and masks, The Munchkin Mayor, Lollypop Guild.
Pick up other accessories like the Toto in a Basket purse, makeup kits, shoes, wands, broom and anything else you'll need to do your Wizard of Oz themed Halloween.