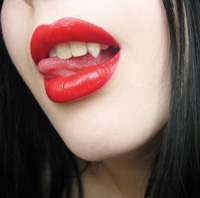 Fangs have come a long way since the cheap plastic novelty vampire fangs and nothing says bloodsucker like a set of nice, sharp canine fangs.
Whether used for a midnight snack, to give a really deep hickey or as part of your Halloween Vampire costume ensemble, fangs are the signature element of a vampire.
First of all, not all Halloween vampire fangs are created equal and you must decide how realistic and comfortable you want them to be, and how much you are willing to spend.
True Custom Vampire Fangs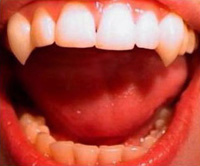 Over the years we have had many sets of true custom fangs made for us by many different people ranging from great to down right terrible. First off, a set of custom made fangs is just that, a set of dental appliances is created specifically to fit over your teeth.
The best set of custom fangs we've had made for us was by Teeth by Dnash. Since 1995, Teeth by Dnash has been making personalized custom dental appliances for those wanting the very best. While he prefers to meet his clients on a one on one basis, he does fill orders through the mail to anywhere in the world and has created a detailed protocol for ordering custom vampire fangs.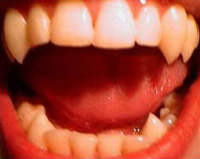 The first step is to have a study mold made of your mouth from your dentist and have your dentist give you a color prescription for your teeth. Next you fill out the order form and send it with the molds) of your teeth to Teeth by Dnash.
Our favorite fangs include the "Traditional Vampire Fangs". The traditional vampire style look great and are very comfortable to wear. The other set we like is the "Dnash Fangs". These fangs are very similar to the Traditional Vampire fangs, but also have a set of small bottom fangs. In our opinion, no one makes better custom fangs than Dnash! www.teethbydnash.com
Off The Shelf Vampire Fangs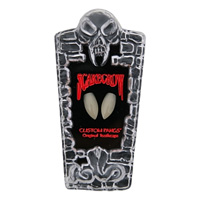 While not as good as true costume fangs, the Scarecrow brand "Love Bites" Deluxe Custom Fangs are quick, easy, and inexpensive! These fangs use a specially formulated dental material for fitting which forms a permanent mold of your tooth inside each fang cap.
This patented approach means you get a tight, rigid, snap-fit and allows for use again and again. Kit contains everything needed to fit your fangs on the spot with no additional utensils needed. Includes one pair of custom fangs. High Grade Plastic Fang Caps. Retails for under twenty dollars. scarecrowfangs.com