| | | |
| --- | --- | --- |
| | TWILIGHT VAMPIRE COSTUMES | |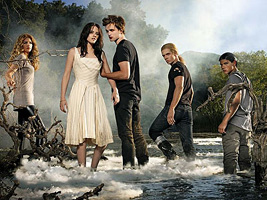 Who hasn't read the Twilight series of books, with all this vampire frenzy sweeping the nation? Most everyone that loves the vampire genre has read them! The books are based around the vampire Cullen family. Young Edward falls in love with the human, Bella, which causes problems to no end. There are also werewolves as their foes, Jacob wants Bella, too.
These books for young adults have set off a renewed interest in vampires as the books are all being made into movies that are raking in the big bucks. People of all ages are reading them and seeing the films.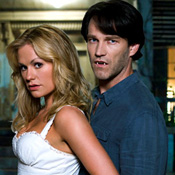 Before Twilight, there was "The Sookie Stackhouse Novels", which HBO made into the "True Blood" series. (Sookie and Vampire Bill pictured left)
The CW, well known for series like "Supernatural" came up with "The Vampire Diaries". All of this has caused a resurgence of the whole vampire genre over the past few years!
They all basically have similar plot lines. A sexy human woman falls for a hot looking immortal vampire guy. Trouble always ensues as they try and work out the logistics of vampire love. Since vampires burn up in sunlight they can only meet at night with the exception of Twilight. There's also the other supernatural beings to deal with like werewolves, shape shifters, witches and what have you. This creates a lot of angst and turmoil and people are loving it!
So far, there haven't been many costumes made for the specific shows or film. We haven't found a Twilight costume but did find and "Edward" wig. It's easy enough to put together your own look from any of these shows. We utilized some regular vampire costumes and morphed them into something that will work for the whole Twilight phenomenon.
Doing Edward will be easy, you just need to add pale makeup and an Edward Cullen wig along with black jeans, a black t-shirt and an over shirt. Bella is human and dresses they way teens today dress, skinny jeans and hoodies, so that's not a problem either. But if you want a more vampire look, check out some of the costumes below.
---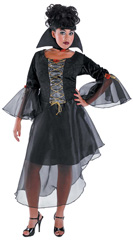 Teen Vampire Costume - Twilight Countess
This Twilight Countess costume is a soft ebony knee-length dress, with a brocade bodice, crushed velvet sleeves, and sheer skirt overlay! There is corset-detailing on the front of the bodice with gold cord and rose accents.

There is even a detachable stiff black collar with rose detail on the close! For a romantic regal allure, make your choice for this elegant Teen Twilight Countess costume!
It's available in teen sizes X-Large (18-20) and XX-Large (22-24) and will be coming in smaller sizes as well. The costume includes the dress and collar. You provide shoes, tights, a wig, makeup and jewelry.
---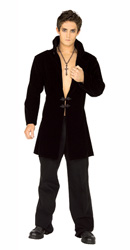 Teen Vampire Costume - Warlock Vampire
This Black Warlock Vampire costume would also make a good Edward Cullin costume! It comes with an elegant black jacket, with two "frog" closures, a high collar, and subtle tailoring through the waist!
Pair this up with your favorite Vampire accoutrements like a wig, fangs, a bat medallion and cane to really bring out the evil in you!
It's available in one size: Standard Teen Men's - One Size Fits Most and includes the jacket only. You supply the black pants, necklace, shoes and make-up.
---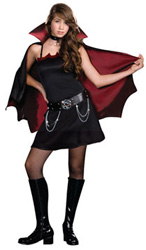 Twilight Bite Teen Vampire Costume
This costume features five pieces and is very cute!
You get a black stretch knit dress with contrasting burgundy scalloped edge neckline, an iridescent satin black burgundy stand up collar cape with scalloped edge, adjustable straps and hooks, belt with pentagram and chain details, choker with ring and vampire fangs to finish off the perfect Vampire Costume!
It's available in Junior sizes X-Small (0-3), Junior (3-5), Junior (size 7-9). The full costume comes with the dress, collar cape, adjustable straps, belt, choker, and vampire fangs. You add makeup, a wig, boots, stockings and jewelry.
---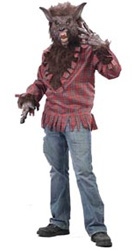 Men's Werewolf Costume
If you have vampires, you have to have their arch foe, the Werewolf. Look at all the vampire movies that portray this... the Underworld series, the Twilight series, True Blood... you name it, werewolves hate vampires!
With this simple combination of shirt, gloves and mask, you'll have a quick and easy werewolf made up in no time! All you need to add are jeans and shoes.
It's available in sizes Adult Men's Standard - One Size and includes a shirt, werewolf gloves and werewolf mask.
You could also use your own shirt, pants and shoes and just purchase the mask and gloves alone.

---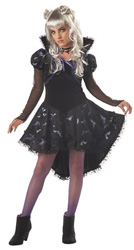 Vampire Princess Nocturna Teen Costume
This Nocturna Vampire Princess costume comes with a lovely asymmetrical dress thatís slightly longer in the back than the front.
The black dress has an attached black collar with purple trim and purple bats printed on the skirt! This also comes with a bewitching choker with black bat charms! This is a costume fit for any vampire princess, it's adorable!
It comes in sizes Large (size 10-12) and XL (size 12-14) and
includes the dress/collar and choker. You provide the makeup, wig, shoes and stockings.
---
Wigs and Accessories
| | | |
| --- | --- | --- |
| Edward Cullen Wig | Black & White Goth Wig | Goth White Wig |
Of course, you need a good wig to go along with your costume and this is but a few of the cool ones that we found! You can also add a coffin or bat purse and sky high heels to the women's costumes. Jewelry is an important feature, you should find big medallion type necklaces with bats or skulls.
Check out this page for more info on becoming a vampire for Halloween that includes makeup how-to's and much more!