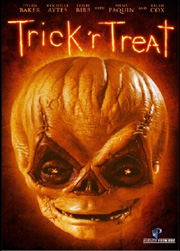 "It is said that Halloween Eve is the night when the dead rise to walk among the living and other unspeakable things can roam free." This creepy line in the opening scenes of the new hit Halloween movie "Trick 'r Treat" gets us going! These "Trick 'r Treat" costumes below cover just a two of the four interwoven stories that take place on Halloween night.
If you haven't watched "Trick r' Treat", a new to DVD movie yet, run, don't walk to either rent or buy this wonderful new Halloween movie! It's the best to come out in ages!
We don't want to give the storyline away to those who have not yet seen the film, but for those of you that have watched it, you will understand the costume suggestions below.
Little Sam Mask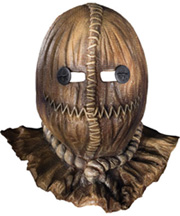 "Little Sam" loves Halloween, in fact he may very well be the supernatural guardian of the dark holiday! He actually has two very distinct looks. One while wearing his creepy burlap Halloween mask and the other with it off.
The "Sam Burlap Mask" is perfect costume accessories for that scary look. This mask is an officially licensed "Trick 'r Treat" product. It's a high quality latex mask designed to look just like Little Sam's head while he's out on Halloween night making sure that everyone is in the Halloween spirit. Just use a black or tan grease paint around your own eyes to fill in because the eye holes are quite big in this mask.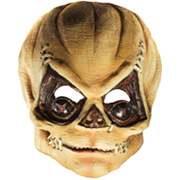 This "Sam the Demon Mask" mask is an officially licensed "Trick 'r Treat" product and the perfect costume accessories for that scary look.
It's the creepy face that you see when Little Sam gets his burlap hood torn off. It is a high quality latex mask with extra large eye holes for better vision. You'll need to use a dark reddish brown grease paint to fill in around your eyes because of the extra large eye holes. You'll be extra creepy in this mask on Halloween night!
Add a set of dirty, red footie jammies like Little Sam wears in the movie and one of the "Trick r' Treat Sam" masks above and you will be all set. You can still find adult footie pajamas online if you look around. Just make sure to distress them, get them dirty and old looking. If you've seen the movie, you know what we mean! Carry a pillow case stuffed with paper for your Trick 'R Treat bag and let it drag in the dirt as you walk.
Costumes From The Vignettes of Trick 'R Treat
Little Red Riding Hood Costume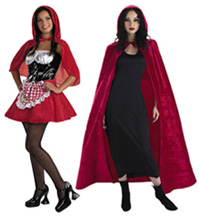 Be afraid, be very afraid. If you really want to tear things up a bit, this "Little Red Riding Hood" costume will do the trick and you'll be the center of attention! Set includes red and black dress with attached apron and corset, small red cape and a petticoat.
Since Laurie's cape was ankle length, you may want to upgrade to the "Burgundy Panne Velvet Hooded Cape". This beautiful fifty-four inch long Velvet Hooded Cape will finish off the costume perfectly.
Dark Figure Costume and Mask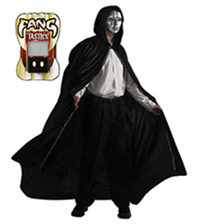 While this character wore a black half mask, covering the upper part of his face, the "Masquerade Cape with Mask Costume" from Costume Kingdom works very well for you know who... Watch the movie!! Set includes a long black hooded cape and silver mask.
You can always paint the mask black with black craft paint and cut it off above the mouth for an authentic look.
Add a set of fangs such as the "Fangtastic Fangs" to complete the persona. Set includes Two Vampire Fangs.
Werewolf Mask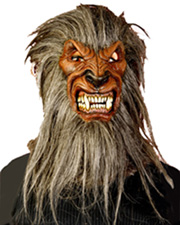 If you and your pack are on the prowl for some moonlight madness and fresh meat, then a werewolf is the thing to become.
The "Midnight Wolf" Mask is the perfect addition to any Werewolf costume.
As for the actual costume to wear with the mask, once again, you'll have to watch the movie to see who the werewovles are. You can always dress in the costumes that they had one before they changed.
All in all, Trick 'R Treat is a roller coaster of a movie and has already gained cult status due to the making of it in 2007 but it never being released until now, on DVD. Watch the movie, enjoy and you'll also have a whole new bunch of costume ideas for this year!