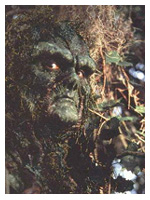 The Swamp Thing was originally a comic book character and made into a movie in 1982, directed by horror master Wes Craven.
The story centers around a scientist who is caught in a terrible laboratory explosion and physically altered by a combination of chemicals and the strange forces within the swamp. The scientist is morphed into a monstrous creature, that lives in the swamp.
Lets face it, swamps are scary and mysterious places. You never know what weird and potentially dangerous creatures might be lurking within.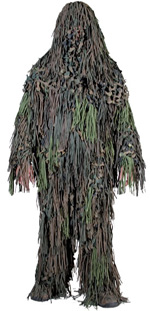 Our own version of a swamp creature Halloween costume will really put a scare into your visitors. Just hide in the bushes or lay on your lawn and when they approach, amble towards them, arms out-stretched, while making a low growling sound!
To create a swamp creature costume a ghillie suit is just the ticket. Ghillie suits are typically used as camouflage by hunters, snipers and bird watchers, but also make for a creepy Halloween costume. Ghillie suits range in price from around $75.00 to $200.00 for a top of the line suit. Check online hunting and sporting goods stores for the best price.
The "Jackal" ghillie suit like the one to the right makes a great Swamp Thing creature Halloween costume. This suit includes the jacket with detachable hood, and pants covered in synthetic 3-D Leaf Like Foliage. This suit retails for around $115.00
Looks pretty creepy to us!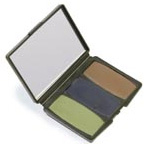 You will want to cover all areas of exposed skin on your face with makeup so not to give away that a human is under all that swamp muck.
Woodland camo makeup like this "Three Color Camo-Compac® Make-Up Kit" includes three camouflage make-up colors; mud brown, leaf green and flat black. This makeup won't dry or crack or come off in the rain or from perspiration, and it is easily removed with just soap and water.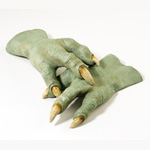 Lastly, you will want to cover your hands with a set of creepy looking costume gloves. During the Halloween many different styles can be found both in stores and online. We like these "Yoda Hands" because they look so dangerous. This adds the final touch to this very frightening Halloween costume set.
Caution - This costume can be difficult to see through if the fake foliage shifts in front of your eyes, so caution should be used when walking, particularly at night.