Some movies just never go out of style or popularity. The Star Wars series is one of those phenomena that happen once in a life time. Grandparents saw them open at the theater, their kids saw the reissue and their grandkids saw the latest in the series of sequels, prequels and epic endings.
Fortunately there is a multitude of costumes for Halloween in the Star Wars line for men, women and children. You can do a couples thing and be Luke and Leia or make it a family affair and add Yoda, Han Solo, the Storm Troopers, Darth Vader and a cast of other characters! There are even pet costumes to your family dog can be Yoda! You'll also find costumes from the newer films with Queen Padme Amidala, Anikan Skywalker, Boba Fett and more.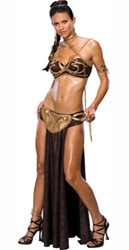 Princess Leia Slave Costume
This Star Wars Princess Leia Slave Costume comes with a brown top with gold details designed to look like the Princess when she was captive to Jabba the Hut!
This also comes with brown briefs with attached skirt, a gold belt, a gold choker with chain attached, and even head pieces! This is the perfect costume for a lady who loves old school Star Wars and can pull off the sexy look!
It comes in sizes Medium (size 6-10), Small (size 2-6) and XS (size 0-2). Costume includes Top, Briefs/Skirt, Belt, Choker, and headpiece, you supply your own shoes and jewelry!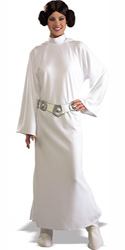 Adult Deluxe Princess Leia Costume
Here's the original look of Princess Leia's dress from the original movies. This is a great adult costume for women Star Wars fans!
This Deluxe Princess Leia costume will turn you into the most famous princess in all of the galaxy!! It includes dress with hood, belt, and boot tops. It's available in women's sizes Small (6-10), Medium (10-14) and Large (14-16). The Bun Wig is included. This is an officially licensed Star Wars item!
Accessories such as light sabers, bun wigs, jewelry and other Star Wars products can be added.
---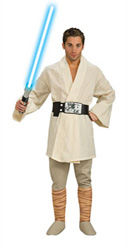 Luke Skywalker
The famous son of Darth Vader was a reluctant hero! If you ever want to have a great look that conjures up the spirit of the young Jedi, consider this Star Wars Mens Skywalker Costume!
This Star Wars Mens Skywalker Costume comes with a cream-colored tunic and beige pants with fully detailed attached boot covers! This also comes with a handy belt! Make sure get a light saber (not included).
It comes in men's sizes Standard and X-Large. Costume includes tunic, pants/boot tops and belt.
---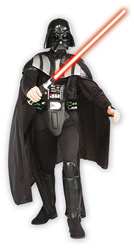 Darth Vader
Come to the Dark Side in this amazing men's Deluxe Darth Vader Star Wars costume! This Deluxe Darth Vader Star Wars men's costume comes with a black jumpsuit with a molded EVA collars, a chest piece, a black belt and even a black cape! It also comes with a black helmet/mask and even black molded boot tops!
Be sure to pick up a red light saber to complete your look! It's
available in sizes Standard and XL for men. Comes complete with helmet/mask, cape, belt, jumpsuit w/ collar, chest piece and boot tops. You'll have to supply the Light Saber and black glove that are available as accessories for this costume.
---
There is a multitude of other costumes available from the newer movies, this is just a small example of what's out there. You could dress your whole family from any of the Star Wars Saga films and have a great theme for any Halloween!