Guys like to dress up for Halloween just as much as the ladies do. It's come to our attention that we don't seem to have many quick ideas for men's costumes that they can do using not much more than a costume to make it quick and easy!
What if your girlfriend suddenly decides that you should do a couples costume and wants you to choose the theme? The costumes listed below can also be used in conjunction with a matching women's costume so there you go!
Below you'll find some costume ideas for men that they can wear as an individual, couple or if they get an unexpected last minute invite to a Halloween party and don't know what to wear. Most of these need little no makeup, just put on the costume and go!

---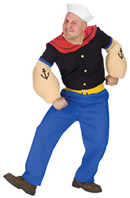 Popeye the Sailor
He's been entertaining kids for generations, Popeye will always ready to deal with the bad guys as long as he has a good can of spinach nearby! This officially licensed Popeye costume comes with a sailor shirt and collar, pants, belt, sailor hat and, of course, the anchor tattoo muscle arms! Pair up this Popeye costume with one of the Olive Oyl costumes available for a cute couples idea!
Available in men's Standard size and a Big & Tall style is available as well. It does not include shoes or corn cob pipe or a can of spinach.
---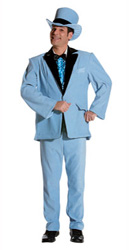 Dumb & Dumber Tuxedo - Blue
This tuxedo from the hit movie Dumb & Dumber, the blue suit that Jim Carrey wore to the Save the Owls ball, is a hit any year. It's really a very popular costume!
The Dumb & Dumber Blue Tuxedo includes the baby blue jacket, pants, top hat and dickey with bow-tie - not an item is missing! Team up with the Jeff Daniels orange tuxedo, below, and hit the parties with your best pal!
It comes in one size - Men's Large and includes the jacket, pants, top hat and dickey with bow-tie. You supply the shoes and the famous "bowl hair cut"!
---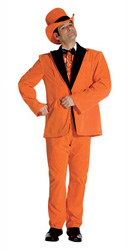 Dumb & Dumber Tuxedo - Orange
Jeff Daniels' ridiculous orange suit is one of the most memorable outfits in this 90's classic comedy! This is really a very popular Halloween costume, even after all these years.
Pop on that bright orange suit and team up with your best buddy as Jim Carrey who can wear the blue tux, above, and bring this hilarious film back into the foreground at all the Halloween parties that you crash!
It comes in one size - Men's Large and includes the jacket, pants, top hat and dickey with bow-tie. You supply the shoes and his famous "fuzzy hair cut"!
---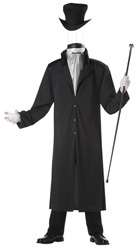 Mr. Invisible Costume
This costume will guarantee that you won't be Mr. Invisible at the Halloween party! Everyone will notice you but no one will know who you are!
This Mr. Invisible Costume has a black coat with an attached white dickey and see-through collar. It also comes with a vinyl headless headpiece and a black Top hat with an invisible hat holder to complete the disguise. This even comes with inflatable shoulder components!
It's available in a Men's Standard - One Size Fits Most. It
includes the coat, headpiece, hat, hat holder, and inflatable shoulder pads. You supply the pants, black or white gloves, a cane and black shoes.
---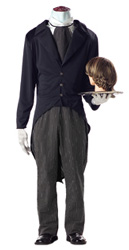 Jeeves, The Headless Butler Costume
Poor Jeeves, he lost his head trying to make everyone happy!
This Jeeves the Headless Butler costume comes with a black jacket with tails and an attached dickey with cravat detail. It also comes with a see-through white collar, black pants with white pinstriped, a severed head headpiece, and an inflatable shoulder component!
This is a great costume for someone who wants to join the party and not let anyone know who they are. Imagine the fun you'll have letting all the Halloween party guests try and figure it out!
You'll have to get your own silver service tray with severed head, shoes and gloves to complete your look! It's available in men's sizes: Medium, Large and X-Large.
---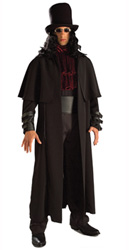 Vampire Lord Costume
Even though this is considered a Vampire costume, it really works as any type of hot yet creepy guy. He looks like he could have been a horse carriage driver for Drac as well a Gothy mortician.
This adult Vampire Lord Costume comes with a long black coat with deep blood red Jabot underneath! This also comes with a dark shirt, a black belt, and a black top hat! But, thatís not all! This also includes a long black wig to fully transform you into a Victorian Vampire! So, keep a timeless look while youíre out hunting for blood in this amazing costume! It's available in men's Standard - One Size Fits Most.
You will need to add your own pants, shoes or boots, sunglasses and if you plan to Vamp out, you'll need a makeup kit.
---
This is but a small selection of men's costumes that can be put on with no fuss.