Everyone loves to dress up for Halloween but it seems as though women have the largest selection of costumes to chose from and the most elaborate, too! That makes the choice for us gals not an easy one to make.
We decided to pick out a few easy but pretty costumes that you can basically throw on and go without adding an elaborate makeup job, lots of accessories, fancy wig and all the other things that can really make it a pain for the lady that just wants to dress and go party! couple of these do require a little makeup and a wig but it's a fast fix so it won't take much time!
---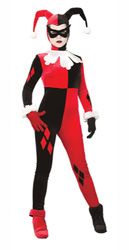 Harley Qiunn Costume
For an impish, mischievous look that will have everyone turning in your direction, check out the masked wonder that is Harley Quinn!
The Harley Quinn costume comes with a tight red and black jumpsuit, with white collar details and cuffs and attached red and black boot covers! This also comes with a red and black headpiece and even a black eye mask and gloves!
It's available in sizes Medium (size 10-14), Small (size 6-10) and XSmall (size 2-6). You'll supply the white face makeup and red lipstick.
---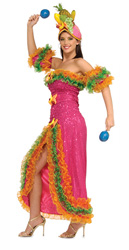 Carmen Miranda Costume
We love the Ultimate Collection Carmen Miranda Outfit! It comes with a hot pink shimmery skirt with an asymmetrical hem and multicolored ruffles on the hem!
This also comes with a matching hot pink shimmering halter top, ruffled puffy sleeves, and a hot belt with fruit accents. There's even a fruit-topped headpiece! This is a rental quality costume and comes packaged in an individual zippered garment bag with a hanger!
This costume comes in Large (size 14-16), Medium (size 10-14) and Small (size 6-10). You supply the makeup, maracas and shoes.
---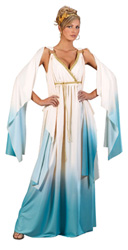 Greek Goddess Costume
Channel your inner Greek Goddess like Hera or Persephone with this women's Greek Goddess Costume! All you need to add is an Athenian Goddess wig, jewelry and a little makeup.
Whether you're going as one of the great goddesses of Greece, or bringing it down to earth as Leonidas' Queen Gorgo in 300, you'll have a gorgeous, classy look in this flowing gown with headpiece.
It's available in women's sizes M/L (size 10-14),S/M (size 2-8). It's a simple costume to just throw on, about half an hour of wig and makeup prep and you are out the door!

---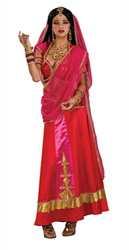 Bollywood Beauty Costume
What's Bollywood, you ask? Bollywood is the slang term popularly used for the Hindi-language film industry based in Mumbai, Maharashtra, India. Bollywood films have become quite popular!
This beautiful costume will make you feel like a Bollywood movie star! It comes with an ornate red skirt and top! The skirt has a lot of gold details and the top has a gold trim. This also comes with a matching red veil for the head and one for the body. This also includes red armbands and fabric bangles.
This comes in size Women's Standard (10-14). You'll need to add your own makeup, jewelry, shoes and Henna hand tattoos. Be sure to add a ruby red bindi (forehead dot) to match!

---
These are just a few women's Halloween costumes that don't take much time to put together.