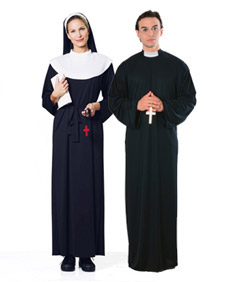 Dressing up as Nun or Priest on Halloween night can be a lot of fun, particularly for a couple. Perhaps they are on their way to perform an exorcism, to give out some special blessings or maybe they just need to cut-loose for a night of heavenly fun.
If in a group, have one couple dress as a Nun and Priest and the other couple dress as devils!
Adult Nun Costume
Need a change in habit? This nun costume, pictured right, is for the adult that needs that change in occupations. It is a polyester gown with attached white collar and veil headpiece with elastic. This is also a very inexpensive costume for Halloween.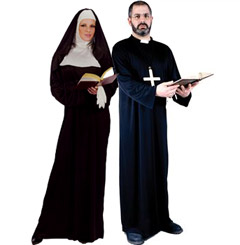 This Mother Superior Nun costume, pictured left is a great value! Looks like the real thing, doesn't it?
Accessorize any nun costume with white gloves, prop bible, ruler and an oversized cross and your costume is complete. Add a pair of wire framed prop glasses for that "stern nun" look.
Get a bunch of your BFF's together and all wear Nun costumes. Then go out bar or party hopping on Halloween! That should be good for a few jokes, laughs and other merriment! Throw a Nun Halloween party, all women come dressed as Nuns, all men as Priests.
Go as a couple and have a friend dress as a demon or devil. Perform an exorcism on them during the party. The priest can carry a prop bible, prop Holy Water bottle and an over sized wooden cross.
Even though these are simple costumes, there's quite a range of what you can do with them for Halloween. You'll find the Mother Superior, Standard Nun, Thank you, Father (pregnant) Nun and a couple different very Sexy Nun costumes. A couple of them are plus size as well. There's no excuse for not dressing up for Halloween, if you can't think of anything be a Nun!