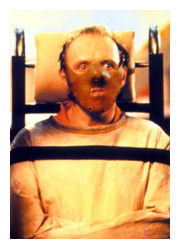 Serial killers are one of the many real life monsters that inhabit our little world and have been portrayed in both film and television many times. But one of the most memorable versions was the portrayal by Anthony Hopkins as the brilliant psychiatrist and cannibalistic serial killer, Dr. Hannibal Lecter in the 1991 movie The Silence of the Lambs.
In fact, Hopkins won an Academy Award for his incredible performance and was later voted to be the most memorable villain in film history by The American Film Institute.
Below is how we assembled our own Hannibal Lecter Halloween costume as close to the one in the movie.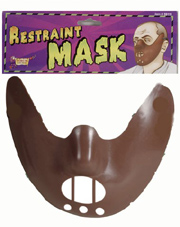 Restraint Mask
The terrifying visage of Dr. Hannibal Lecter fully restrained and forced to wear a special protective mask meant to prevent him from attacking anyone he might want to sink his teeth into was one of the most memorable scenes in the movie and was very creepy.
The Halloween mask pictured to the right is simple and inexpensive and is without a doubt the most important element you will want to use in transforming yourself into the homicidal Hannibal Lecter or can be used to create your own version of a psycho Halloween costume. This mask is made of brown colored PVC plastic with an elastic band to hold it on the head and is one size fits most.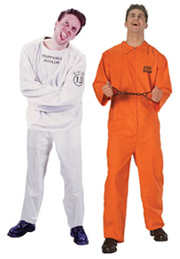 Straight Jacket
The "Happy Hill Asylum Straight Jacket" Halloween costume includes a simulated "straight jacket" with a tie-back and open ended sleeves for free hand movement.
It also comes with matching pajama style pants. The adult size fits up to six feet in height and two-hundred pounds. Material content: Pants & Top: Polyester, Rayon and Cotton; exclusive of trim.
If you want to add even more realism to your Hannibal Lecter Halloween costume you can add a blaze orange prisoner's costume to wear underneath the straight jacket, just like Hannibal Lecter wore in the movie. The "Jail Bird" Halloween costume is single piece cotton orange jumpsuit that works very well for this.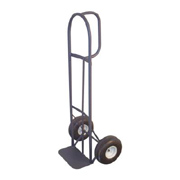 General Purpose Hand Truck
As you remember, in the scene where Hannibal meets the senator, he is double strapped to a hand truck and wheeled into a aircraft hanger. All you need for this is a standard hand truck like the one shown to the right. If you don't already own one, you can buy one at your local hardware store. A hand truck with air inflated tires will give a better ride and are easier to push than those with solid tires. Just made sure that it has a higher weight carrying capacity than the person that will be on it. You can attach a small pillow using straps as a head rest.
Restraining Straps
There were two straps that held Dr. Lecter to the hand truck. One over his upper arms and the other over his legs. The easiest thing to use is nylon straps that attach with Velcro. Just make sure that you attach them in such a way that you can get out of them on by yourself. There was actually a third set of straps around his ankles securing them to the base of the hand truck, but we don't recommend this for safety reasons.
Makeup
Little or no makeup is needed. You can slick back your hair with some styling gel.