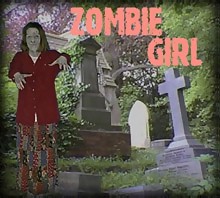 We wanted our Zombie to look like she had just crawled out of the grave and not having the time to dig up a corpse for reference, we called our friends at The ScreamTeam. Their "Dead Lee" prosthetic appliance looks very real and corpse like. Designed to be easily applied it's the perfect choice for the living dead.
For only $49.95 you get their professional foam latex prosthetic and detailed, easy to follow instructions (Item: GFLP105). The appliance can be used over and over, it would also make a great old hag face as well.
In addition to the above kit there are a few things you will need to apply the prosthetic including: spirit gum, rubber mask grease paint, baby powder and some cosmetic sponges. You probably already have these in your make-up kit, but if not, the Scream Team also carries a make-up kit specifically for their appliances.

We picked up a couple extra pans of white grease paint since this would use a lot of white mixed with a little black and green for our zombie coloring. Also remember to pick up some cosmetic sponges, Q-Tips, alcohol (for appliance removal), tissues and a variety of make-up brushes.

The ScreamTeam Make-up Kit Includes:

1- 5.5 oz rubber mask grease palette with 8 colors: black, white, red, brown, green, dark yellow and two shades of flesh tone.

1 - #2 make-up brush
2 - sponge wedge applicators
1 - black stipple sponge
1 - 1/4 oz. bottle of spirit gum
1 - 1/4 oz. bottle of spirit gum remover
2 - cotton swab applicators
1 - .25 oz bottle of face powder
1 - 2.5" double-sided velour powder puff
and a convenient case for only $29.95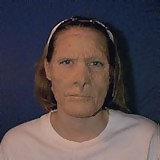 First, we applied the facial appliance starting with the nose and working up, then down. Use a liberal amount of spirit gum, tapping it with a finger tip till tacky, before "gluing" it on.
When the appliance is attached, use your liquid latex and a sponge to seal the edges down, for a smooth look. This will hide the edges and when make-up is applied, it will give a flawless look, no seams. Make sure when you mix the base color that you mix a lot, you'll need it for any exposed skin, hands, neck, etc.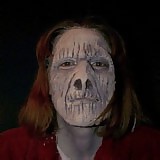 After mixing your base (we used white with a hint of green and black), apply it to the face and neck, covering to the hair line, ears, anything that will be showing. Use a mixture of black, white and brown for the shadows and apply with a narrow brush.
Use a cosmetic sponge to blend. Your fingers work well to blend, also. If you use a flesh tone on this appliance, it can be used as an old face, perfect for an old witch or haggy type person.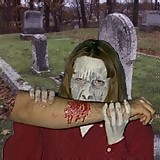 Remember, zombies are living dead and usually portrayed as having crept out of the grave. This means they had a funeral and were buried. So you'll also need to pick clothes that the deceased would be wearing.
The easiest and least expensive that you can do is take a trip to your local thrift shop. They are usually filled with old clothes at a low price. Once you have clothes, you'll want to distress them to make them look old and deteriorated. A severed limb to carry around is a nice touch as well.