All Hallows Eve is the time that spirits come back walk the earth, so what better time can you think of to be a ghost yourself? Below are some great ghostly costumes!
---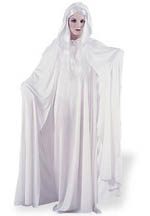 The Gossamer Ghost Costume is a vision in white and a very classy ghost costume. The costume includes a long white, flowing dress, white hooded cape and a long white wig. This costume is very comfortable one to wear and is perfect for haunting your house, neighborhood or at a Halloween Party. It also is forgiving to figure flaws as it's a very spacious costume.
Makeup: We used a white grease paint all over the face and neck, followed with a light gray around the eyes to give a shallow look. You could also add a pair of the White Out contacts, featured above, to really give it a ghostly look!
The Gossamer Ghost is also available in a child's costume! Just right for that mother and daughter night out trick or treating or family Halloween party!

---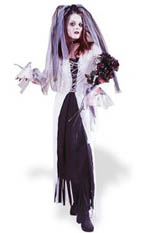 The Skeleton Bride
She may not be an actual ghost but this costume is very ghostly looking! She was left at the altar and now out for blood! The costume includes the dress, veil, choker, lace gloves and tie string for bodice. Add a bouquet of black silk roses, black hose and shoes to finish this costume off.
Make-up:
Go gray-white and ghastly on the face and neck, use a black grease pencil to surround eyes with dark circles and blend in for a sunken, hollow look. Use a darker gray grease paint to hollow the cheeks and black for the lips. You can add lace gloves or do the hands in gray-white as well.
---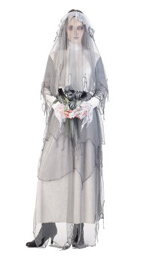 We love this great costume, Lady Nightshade: The Ghost Bride! Be a ghastly bride in this gray dress with sheer gray overskirt, white lace wrist inserts, white lace neckband and gray veil.
It's available in a variety of adult sizes ranging from Large (12-14), Medium (8-10) and Small (4-6). Her shoes are not included so you'll have to pick up some Victorian style shoes to complete the costume.
This is a very high end costume! You could pair this with the men's costume, below, for a ghastly, ghostly bride and groom couples costume or a real Halloween wedding!
| | |
| --- | --- |
| | "White Out" contacts lenses would make a perfect final touch for any of these haunting costumes and would add real impact to the look! Available from FX Eyes. Add a ghostly white make-up such as the ones used below and you're all set! |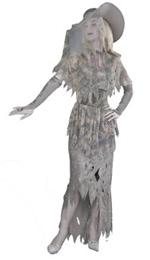 The Ghostly Gal
Your Halloween party just got spookier if you wear this fascinating ghost costume! It includes the gray dress shown here with attached capelet and peplum detail, matching gauntlet gloves, and coordinating floppy hat with attached veil - all tattered for an aged effect.
You'll want to add a long gray wig or spray your own long hair gray for the night with one of the many temporary hair color sprays available. Add a ghostly make-up, black nails and lipstick and you are all set!
This costume is available in One Size Fits Most for ladies (fits sizes 8 -14). Pair with the Ghostly Gent, below, for a spine-chilling couples costume.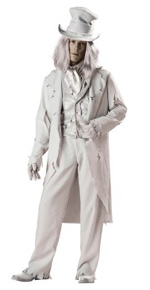 Ghostly Gent Elite Collection
This fully finished costume includes a light gray coat, velvet vest with attached shirt sleeves & front buttons, pants with elastic waist band and front zipper, dickie with scarf collar and matching top hat - all tattered for aged effect. It's so complete that the gloves and wig also included! It's available in men's adult sizes Medium, Large, and X-Large.
Remember a bald wig cap (sold separately) to hold in your own hair, unless you have a short hair cut. Add a make-up to this same as the ladies version, used above for the Gossamer Ghost. Just use a lighter hand when applying for the guy. Add a pair of white shoes and socks as they are not included. Pair with the Ghostly Gal for a very cool couples costume.
For a Halloween wedding, any of these costumes would do for the bride and groom. The bridesmaids could also be in one type of costume, groomsmen in another.
Ghosts are often portrayed as a corpse wearing a white bed sheet. This comes from the age old tradition of dressing the deceased in a burial shroud, veil or sheet made from white cottom, wool or linen.