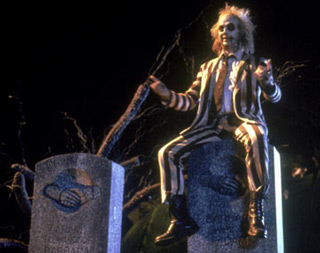 Bio-exorcist by day, "Ghost with the Most" by night, Beetlejuice is one of the most memorable undead characters in recent memory!
As you recall, Barbara and Adam Maitland were killed in a car crash, and find themselves trapped as ghosts in their beautiful New England farmhouse.
Their ghostly existence is disturbed when a yuppie family, the Deetz's, buy and move into their beloved home. The Maitlands are too nice and inexperienced as ghosts to successfully scare the Deetzs away. That's when they enlist the aid of another ghost, 'Beetlejuice', for his bio-exorcist help.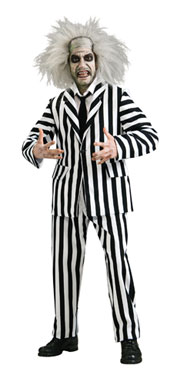 Donning the Beetlejuice persona is the perfect choice for anyone who's in the mood to let their "demons'" loose on Halloween night!
The Makeup Kit for the Recently Deceased includes everything you need to transform yourself into Beetlejuice himself.
The Ultimate Beetlejuice Costume set is an all-in-one package that's ready to go. It includes a his classic black and white striped jacket and matching pants, a white shirt and black tie, just like he was wearing when he was sitting on the tombstone.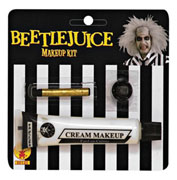 It also comes with a white Beetlejuice wig featuring that crazy and over the top hair that sticks out for inches.
Finally, the included Beetlejuice make-up kit comes with a tube of white cream makeup and a black makeup crayon for detail your face.
BEETLEJUICE, BEETLEJUICE, BEETLEJUICE