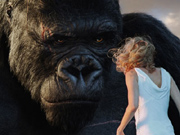 No matter how you believe we got here, its just plain fun to dress-up as a monkey! Gorilla costumes are great for Halloween parties or if you want to carry a girl away, there's something very primitive about wearing a gorilla costume, and guys just love to go ape. I guess its that monkey thing. Here's an idea, an all Gorilla Halloween Party. Just think of the fun with a bunch of your friends all dressed as gorilla's!
Remember, all Halloween masks reduce your vision to some extent, some more than others. Since you will be walking around at night, possibly on the street, there's no reason to risk life and limb because of limited vision. Always remove or lift up your gorilla mask before crossing a street, driveway or alley.
Below are some of the gorilla costumes that are available with prices that range from only twenty dollars to over a thousand dollars for professional costumes, although we're not sure what profession would require a high-end gorilla costume. Most are available for purchase at your local Halloween store.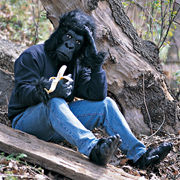 Latex Gorilla Costume
Quick, simple and cheap - This is the most basic of gorilla costumes for Halloween, where you simply wear your own street clothes while wearing a gorilla mask, hands and feet. It might not be as elaborate or realistic as a full body gorilla suit, its still a lot of fun to wear.
This particular set includes a full-size gorilla mask with holes cut in the eyes to see through, and the nose and mouth for ventilation. It also comes with a pair of furry feet and gloved hands. Banana not included. This adult size costume set comes in one-size-fits most and usually retails for only around $20.00 online and at most costume stores.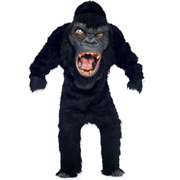 Gorilla Adult - Gorilla want a banana?
If you want to go for something a bit more frightening than the regular gorilla costume, try this one. This large threatening alpha male of the pack looks like he is defending his territory, with a load roar and mouth full of teeth. Become the scary creature at your next party dressed in this Gorilla Costume.
Includes bodysuit with large latex face (gorilla mouth is open as if roaring), see through hood, hands, and feet. Available in One-Size fits most adults.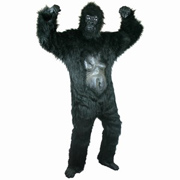 Gorilla Costume
This or gorilla costumes similar to it are probably the most commonly seen gorilla costume on Halloween night or at a Halloween party. This standard type gorilla costume typically includes a full size jumpsuit with a plastic inset chest piece, a gorilla mask, hands and shoe covers. Sizes: One size (fits up to chest size 36-44).
These types of gorilla costumes usually retail for around $130.00. Gorilla costumes like this one are available at most costume stores.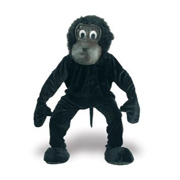 Adult Gorilla Mascot Costume
For something on the lighter side, you can try the Gorilla mascot costume. Its a lot of fun and easy to wear. Plus, the ladies love a cute monkey! This costume set includes a full coverage Mascot gorilla head, a black plush jumpsuit with attached tail, attached hand mitts and oversize mascot feet.
The cool thing about this costume is that its made in both adult and children's sizes, so you can dress the entire group up as a family of monkeys! The adult Gorilla Mascot costume retails for around $140.00.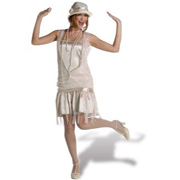 Fay Wray Costume
Wearing a gorilla costume for Halloween and want to go with that special lady of yours as a couple? The perfect and most complementary Halloween costume for her, other than as a female gorilla, would be a Flapper costume.
The "Adult Flapper Gatsby Girl" in Ivory works great for this! This costume Includes a one piece Charleston style dress, matching roaring twenties costume hat and a long beaded flapper necklace. One size fits most women size 4-10 and retails for around $50.00.
Gorilla Accessories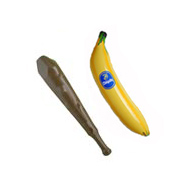 Big Inflatable Banana inflates to twenty-six inches in size. Great to carry around with you. Also has hang-tabs. Great costume accessory with your gorilla costume, monkey costume or other animal costume!
A fake plastic club for those advanced, tool using apes! Real Banana's - If you're handing out treats from your front door on Halloween night, you can always give out real banana's as a treat.